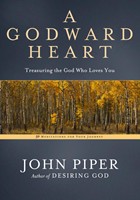 Sometimes short meditations are easier to absorb than whole books.  This may be because it is easier to evaluate and determine a life response to a few paragraphs than to a whole book.
A Godward Heart by John Piper is a book of 50 of such meditations covering a wide range of topics from "This Morning I Heard the Voice of God" and "Does God Lie?" to "Gleaning the Truth from G. K. Chesterton" and "How Shall We Love our Muslim Neighbor?" Some of the meditations are intensely practical, like "Discerning Idolatry in Desire:  Twelve Ways to Recognize the Rise of Covetousness" and "Let's Make Some Resolutions:  Endeavoring Fresh Good for the Glory of God."  Others answer questions I would never have thought of like "Why Require Unregenerate Children to Act like They are Good?" or "Does Anyone Standing by the Lake of Fire Jump In?"
Most of them (except for a few like "Co-ed Combat and Cultural Cowardice") focus on Piper's usual topic:  enjoying God, glorifying God, making much of God, and it is this theme that holds these meditations together.  All of them can be digested relatively easily even though they contain deep thoughts, probably because Piper presents his ideas simply and with passion.
I started to read this book on a 'bad' day and it was strangely soothing, among the aches, pains, and fatigue, to read the Truth, solid, real, dependable, not watered down, presented humbly but without apologies.  We don't need to understand what is going on; we just need to trust that God knows what is going on.  In fact, all we need in life is to trust God and love him, and everything else will fall into place.
Simple?  Yes.  Simplistic?  Not at all.  In fact, there is a lot of deep theology in this book, as well as a lot of wisdom and practical encouragement.
Of course, that is not to say that I agree with everything Piper writes.  But I do appreciate having the opportunity to think through many aspects of life from his point of view.
A Godward Heart will help many readers think through their thoughts and actions and bring them closer to God.   It is a worthwhile book, but as John Piper wrote:  "The great need of our time is for people to experience the living reality of God by hearing his word personally and "transformingly" in Scripture."  In other words, reading the Bible is much more important than reading any human book.
—
John Piper has written many worthwhile books, and many of them can be downloaded for free from his website Desiring God.
This is yet another book in the in the 2014 52 Books in 52 Weeks Challenge and is also linked to Saturday Reviews, Works for Me Wednesdays, Booknificent Thursdays, and Raising Homemakers.
Disclosure: A download of this book was provided by Blogging for Books for the purpose of this review; the review represents my own honest opinions.