We have used MathScore off and on for years, and now we have also tried out its new game EduFighter.  As I wrote in an earlier review,
MathScore is a drill program that's all about math, instead of being mathematical entertainment.  Entertainment is fine in its place, but a good, solid math drill program that goes from 1+1=2 right up to quadratic equations is worth its weight in gold.  Rather than flashy fun, MathScore has a simple military rank reward system that provides exactly the right amount of motivation.  This program is a very good fit for our family.  
In most respects MathScore is still the same effective, no-frills way to help your children achieve mastery in over 200 topics from grade 1 through Algebra 1.  It still has excellent parental reporting.  It still has modest pricing and the wonderful account-freeze feature I described long ago.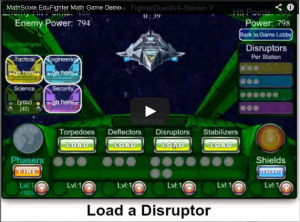 There is a new feature, though:  MathScore has added EduFighter, a solo or team game focused on taking down an enemy ship….
To find out more about EduFighter, how my three girls liked it, and how MathScore benefited us last year, you can read my review over at The Curriculum Choice.
Disclosure:  I was given free access to MathScore and EduFighter in order to prepare this review.