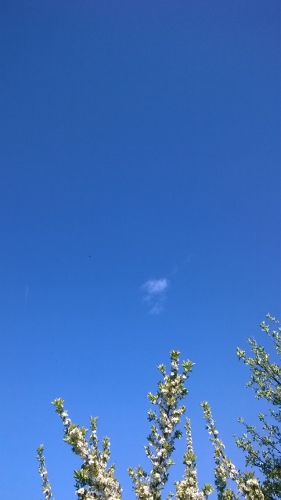 When we are in the midst of disturbing circumstances, contentment can be so difficult to find.
During a lifetime of hard missionary work to pygmies in Africa, one woman wrote out her prescription for this virtue.  These priceless notes were found by her daughter after her death, and were quoted in Calm My Anxious Heart by Linda Dillow.
Never allow yourself to complain about anything—not even the weather.
Never picture yourself in any other circumstances or someplace else.
Never compare your lot with another's.
Never allow yourself to wish this or that had been otherwise.
Never dwell on tomorrow—remember that is God's, not ours.
Linda Dillow continues:  "…because all her tomorrows were nestled in God's strong arms, she was free to live today. One day at a time she could make the right choices and grow to possess the holy habit of contentment."
Yes, the list of 'nevers' is inspiring, but it is their basis—trust in God's good providence—that counts.  Otherwise the list could lead to legalism rather than contentment and wisdom.
May God bless us all as we learn to find contentment in him rather than our circumstances.
—
For more encouragement, visit Raising Homemakers, Titus 2 Tuesday, R&R Wednesdays.