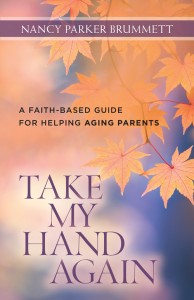 Not only are our children growing older, but so are our parents.  And, while the children are becoming more independent, the parents may be becoming more dependent.  That is the way life works in our broken world.
It's not easy, this business of our parents growing older.  It is difficult emotionally, of course.  But there is more:  so much to learn, so much to plan, so much to do, and the worst of it is that we have no idea what we should be doing and planning and where to get reliable information.  And through it all, we want to honor our parents and respect them for who they are, what they have done, and the role God has given them in our lives.
Take My Hand Again:  A Faith-Based Guide for Helping Aging Parents by Nancy Parker Brummett aims to help.  It gives information, suggests things to consider, presents possible plans, and provides both experience and comfort, all from a Christian point of view.
I found myself overwhelmed by all the things I had never thought of but thankful for all the information that is available.
Take My Hand Again also reminds us that old age has many golden moments.  Aging is not all negative, especially when the older person knows the Lord and is confident of a heavenly future with him as well as an earthly call to live for him in the last decades, years, or days of life.
There were some sections of the book that left me scratching my head, though, like a Christian caregiving child needing to ask her Christian parents if they loved the Lord.  But perhaps not all parents are as open as mine.
Others left me nodding, like the discussion of prolonging life artificially and the unnecessary suffering it can cause, and the relation of this issue to the obvious evil of euthanasia.   This is a very difficult topic that must be discussed ahead of time, along with other difficult issues.
Since Take My Hand Again is the first book I have read about aging parents, I do not know how it compares with other ones, but I found it very helpful.  Nancy mentions many useful books, organizations, and links, both throughout the book and in her recommended resources section.
We live far from both sets of parents and are so grateful for the siblings who live closer.  Yet we also want to be involved and supportive of our parents and the siblings who live near them.  This book helps us in that.
If you have elderly parents, Take My Hand Again may help you care for them and understand the issues they face and that you must face with them.  If you have not read anything about this topic, it is a good place to begin.

—
This is yet another book in the in the 2015 52 Books in 52 Weeks Challenge and is also linked to Saturday Reviews, Booknificent Thursdays, Literacy Musings Monday, and The Book Nook. 
For more encouragement, visit Raising Homemakers, Titus 2 Tuesday, R&R Wednesdays.
Disclosure: I received a copy of this book from Kregel publications for the purpose of this review.  All my opinions are my own, and I am not compensated for sharing them.