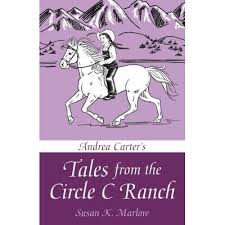 Spunky horse-loving Andrea Carter has the run of Circle C ranch in 1800's California and gets into adventure after adventure with her horse Taffy, her brothers, and her friends.  Her horse is truly special, her brothers save the day regularly, and she does her best to do so too.   From little Andi wanting to wear britches to a much older Andi showing her sister just what kind of a scoundrel her beau is, each of the short stories in Tales from the Circle C Ranch brings fun and excitement.
When it was time to review Tales from the Circle C Ranch, I finally found it tucked away near Miss 12's bed (for convenient re-reading), and while I was reading it she was wondering where it had gone.  We both really enjoyed it and we highly recommend it.
Author Susan K. Marlow has written many books about Andi, and the dates of this collection are spread throughout the Circle C Beginnings series and the Circle C Adventures series, with notes explaining the relationship of each story to the series.  After reading Tales from the Circle C Ranch, I plan to get more of Marlow's books for my girls to read and I'm sorry my older girls did not have the opportunity to read them when they were published.
Exciting and enjoyable, these wholesome stories will bring a sparkle to your daughter's eyes and keep her reading, especially if she loves horses.
—
For more information, a lapbook study guide, and a preview of some of the stories, see Susan K. Marlow's website.
This is yet another book in the in the 2015 52 Books in 52 Weeks Challenge and is also linked to Saturday Reviews, Booknificent Thursdays, Literacy Musings Monday, and The Book Nook.  For more encouragement, visit  Finishing Strong, Trivium Tuesdays, Raising Homemakers, Titus 2 Tuesday,  Monday's Musings, R&R Wednesdays,  Faith Filled Fridays. 
Disclosure: We received a review copy of this book from Kregel and have shared our own opinions.