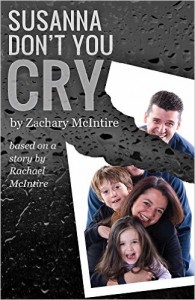 Ever since the horrible day his father, Ross, walked out, Chuck Kincaid's mother, Susanna, has been a wreck.  And despite Chuck's best attempts at parenting Kelly, his little sister has been drifting into the wrong crowd.  Chuck knows who is to blame for all this—his father— and he hates him.
But life continues.  Mother and children struggle on, completely on their own, until, one day, Susanna is called into her boss's office.  She is put on probation, and in her desperate state it seems there is only one way out….
From a fatal plane crash to a fatal car crash, from drugs to fostering teens, from publicly standing up for Christ to living for him day to day, the family's lives are full of one crazy situation after another.    Read the novel to find out how salvation comes first to Susanna and then to Kelly, and to learn what happens to the rest of the family.  They all grow and change, and sometimes it is shocking to see who they are becoming.
Deftly, with both humor and emotion, Zachery McIntire even manages to address the important concept that salvation is a free gift and that we all depend completely on God's mercy, not ourselves.  He does not gloss over the fact that Christians can have hair-raising lives, but he does, perhaps, portray the victorious side of Christian life so much that those who struggle spiritually may become discouraged.  This is my only criticism of Susanna Don't You Cry.  It is a skillfully-written story in all respects, and astonishingly so for a first novel.
Susanna Don't You Cry will captivate and inspire both teens and adults.  From graffiti to the grace of God, from scandal to salvation, from hatred to hope, Zachary McIntire has woven the gospel into the very structure of this captivating novel.  Yet there is no preachiness here, just a great story about some very human characters.  Even so, this book could have some uncomfortable moments for non-Christians and that may be a good thing.  I recommend it.
For more information about Susanna Don't You Cry by Zachery McIntire (and for other books, some free, by the talented McIntire family), please see the Elisha Press website.  This book is available from Amazon in both print and ebook formats.  During February three copies will be given away.
—
This is yet another book in the in the 2016 52 Books in 52 Weeks Challenge and is also linked to Saturday Reviews, Booknificent Thursdays, Literacy Musings Monday, What to Read Wednesdays and The Book Nook.  For more encouragement see Raising Homemakers, Titus 2 Tuesday, Tell it to Me Tuesday, and Finishing Strong.
Disclosure: I received a pre-release copy of this book from Elisha Press for the purpose of this review and, as always, am not compensated for it.