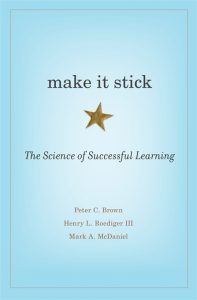 Homeschooling is, when you get down to it, all about learning.
That is one of the reasons I picked up Make It Stick:  The Science of Successful Learning—I needed to understand how to make learning work better in our homeschool.  Now I am recommending it to everyone.  Based on research, this book is full of surprising and practical insights.  If you read only one book about homeschooling next year, let it be this one.
Make It Stick is based on three common-sense premises,
learning requires memory,
learning is needed throughout life, and
learning is an acquired skill.
One of the book's primary points is that learning sticks better if it takes effort, even though it seems that low-effort methods of studying like rereading and highlighting seem so effective.  Retrieving things from our minds, organizing them, and expressing them in our own words—what Charlotte Mason calls 'narration'—is one of the most effective ways of learning, and it also takes enormous effort.
Another point that made me nod my head:  we all are poor judges of when we are learning well.  Generally we don't really know what we don't know, and this is true for our children as well.  Testing in the homeschool is not primarily about determining marks; it is about discovering what our children do and don't know so that we can help them increase their understanding of the subject.  Of course, especially in the high school years, marks can be necessary.
Review needs to be spaced and never quite stopped if you want to keep knowledge in your children's brains.  Things they are currently learning should be reviewed often, and things they know well only a few times a year.  But rereading is one of the least effective methods of review.  Recalling, building new connections, organizing the material, and extracting underlying principles are much more effective ways to strengthen knowledge.
Every time you learn something, you change your brain.  The goal in effective long-term learning is to change the brain permanently.
All new learning requires a foundation of prior knowledge, and the more you know the more you can learn.  That is, perhaps, why some of the most successful homeschoolers spent so much time as children learning information—from books, sand piles, pets, adults, innocent mischief, and just watching the world—rather than focussing on academics.
I was very frustrated at the beginning of this book.  Somehow I couldn't quite grasp what the authors were saying, and each time I almost understood it they moved onto something else, only to come back to each idea from a different angle later on.  Then I realized that this was an example of the difficult, interleaved learning that research had proved to be the most effective and that the authors had painstakingly built into the book.
Make It Stick ends with a very practical chapter that sums up most of its ideas, but I encourage you to read the entire book if at all possible.  Going through the effort will help you understand the concepts thoroughly and make them stick in your homeschool.
This book is one of the best I've read about learning.  Yes, there are other good ones that contribute to the discussion, including Smarter, Faster, Better by Duhigg, Blink and Outliers by Gladwell, Deep Work by Newport, Grit by Duckworth, and, of course, anything by Charlotte Mason. There is research about how being emotionally involved helps learning, and about the effect of intuition and habit and character.  Make It Stick, however, is the most practical for those of us involved in the important daily business of teaching our kids.  I highly recommend it.
More information about Make It Stick by Brown, Roediger, and McDaniel, as well as related links, is available from Harvard University Press; discussion questions and more are available at the Make It Stick website.
__
Here are some of my other articles on learning:
80% Passing Grade—Learning for Mastery
Learning for Mastery—Some Practical Issues
Learning Skills Little by Little and Day by Day
and here are two for when learning is not working:
Overwhelmed, Underchallenged, Unmotivated, Disobedient, or Just Plain Lazy?
When Your Teen Can No Longer Focus
Disclosure:  I borrowed this book from the library and then put it on my wish list to own. I am not compensated for this review and have expressed my honest opinions.