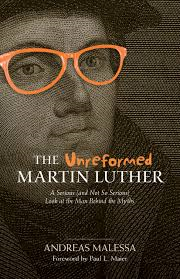 2017 is the 500th anniversary of Luther's Ninety-Five Theses, so a plethora of books is being published about him, and I am blessed to be able to review several of them.  This one is the most surprising and original.
In The Unreformed Martin Luther, German journalist and theologian Andreas Malessa took an unusual approach.  He collected popular stories and sayings about Luther and evaluated each of them using Luther's own copious writings as well as contemporary records and later discussions, some scholarly.
This book contains a few startling revelations.  For example, Luther sent out three copies of the Ninety-Five Theses but most likely did not actually nail them to the cathedral door.  Besides that surprising suggestion, Malessa also clarifies Luther's doctrine and defends his lifestyle—and, no, Luther was not a drunk.
Malessa excels in putting Luther's life into its historical context, and as such The Unreformed Martin Luther contains several illuminating accounts of customs, practices, and assumptions of the day that help us understand both Luther and the Reformation better. How marriages were legalized in those days, for example, was a revelation to me.
Filled with humorous tidbits, careful explanations of theology, and much historical context, The Unreformed Martin Luther strips away myths surrounding this great man and presents him, respectfully and, hopefully honestly, as a good man.  This book is centered completely on Luther, the man, and his impact on the world, and does not discuss at all how God worked through him.  As such it is almost a secular book, even though it is about one of the main events of Christianity and presents Luther's theology accurately.
The Unreformed Martin Luther ends most abruptly with a chapter on Luther's anti-Semitism which is, obviously, a very important factor to a modern German author but certainly not adequate as a conclusion.  Without a conclusion or any reference to God's work in and through Luther, the book seems little more than a compendium of articles about a great man, interesting but not very satisfying.
If you only have time to read one book about Luther, I would not recommend this one, either for your homeschool or for pleasure.  (Simonetta Carr's Martin Luther, to be reviewed next week is probably the best introduction for young people and adults, and Luther The Leader by Virgil Robinson is an excellent read aloud. )  However, if you already know about this great man, The Unreformed Martin Luther will provide a completely different approach and will give you some new ideas to consider.
—
Much of our homeschool church history learning (link to my reviews) is based on biographies, historical fiction, and primary source documents.
If you enjoyed this article, you might want to follow me on Google+ where I often mention helpful or interesting ideas, or connect with me on GoodReads where I  (eventually) share what I read. 
Disclosure:  I received a review copy of this book from Kregel Books and have given our honest opinions.  I am not compensated for them.