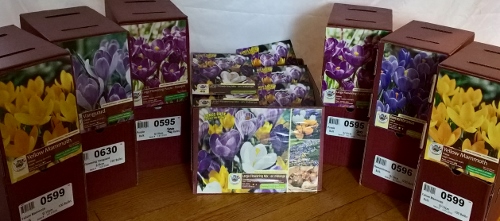 For years, decades even, I've dreamed of a lawn covered with crocuses in the spring. It's like painting with flowers, God's colors and textures.
This spring I mentioned my dream several times and my dear children caught the dream, too.  Together they gave me 1000 crocus bulbs.  Now that we are planting them, it turns out that there are actually 1480 little brown bulbs, tiny promises.
So, in the damp chilliness of the wettest fall in years, we are sectioning off the yard, mixing bulb colors, and planting them, one bulb at a time, filling section after section of leaf-covered grass.  It's a lot of bulbs to plant, and we get cold, tired, and sore, but we dream of the coming miracle.
"And is it really true that they come back year after year, and that there are more each year!?" one asked.
They, too, now wait with eager longing for the revealing of God's crocus artistry next spring.
And, as so often with gardening, I have come to a deeper realization of Jesus' words:  Where your treasure is, there your heart will be also (Matt 6:21).  Now that we are investing such extravagant time and effort into the coming of spring I am full of anticipation and, like a child, hardly able, at times, to sit still.
If we lay up treasure in heaven with the same extravagance, loving God and our neighbors with our whole being (Matt 22:37-38), working diligently in and with the world he has given us (Gen 1:28), and eagerly pointing people to Jesus (Matt 28:18-20), then God's future kingdom will seem more and more delightful to us, too.
Then we will see that kingdom not merely as an escape, as those who struggle with despair and the difficulties of life see it, but as a great good to be anticipated with eager longing.  Yes, it will be an escape, where all our tears will be dried and all pain will disappear, but it will be so much, much more:  we will be with God.
So here's to painting with God's colors in our children's hearts and in our world, to filling our lives with his goals, and to a future that will be more amazing than we could ever imagine.
May God bless each one of us, and each of our children.  Amen.
—
If you enjoyed this article, you might want to follow me on Google+ where I often mention helpful or interesting ideas, or connect with me on GoodReads where I share what I read.