The last few years our winters have been rather tame with little snow and no dramatic temperatures, but this week was different:
Sunday, church was cancelled because of snow on the roads.
Monday, nearby school buses were cancelled because of extreme cold.
Wednesday, school buses were cancelled because of snow on the roads.
Thursday, school buses were cancelled because of anticipated freezing rain.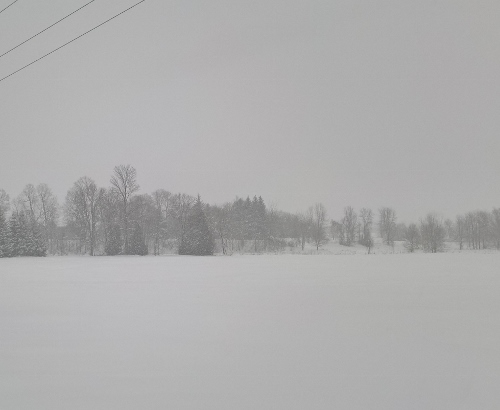 As homeschoolers we are not really affected by school buses, but there's still a happy enchantment to being officially snowed in.  We sit and watch the snow fall.  Then, quieted, our eyes see more.
A black squirrel ventures down a tree trunk and into the fluffy snow.  He tries to bound over it but gives up and burrows instead, his tail breaking his tunnel's roof behind him.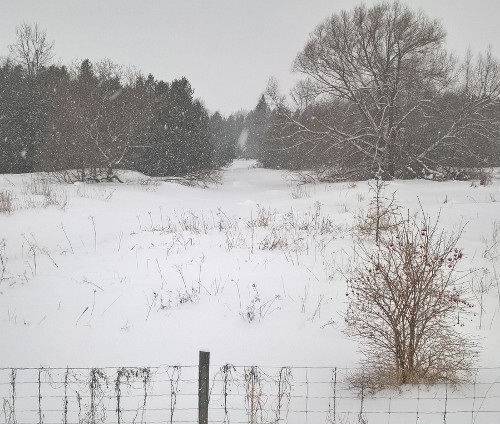 We watch the rare traffic, mostly snowplows and snowmobiles.  Then we see the coyote hunters as well, out to make the world safe for their upcoming calves and lambs.  (We often hear coyotes howl and only the strongest of us dare walk at night, always taking a strong stick just in case.)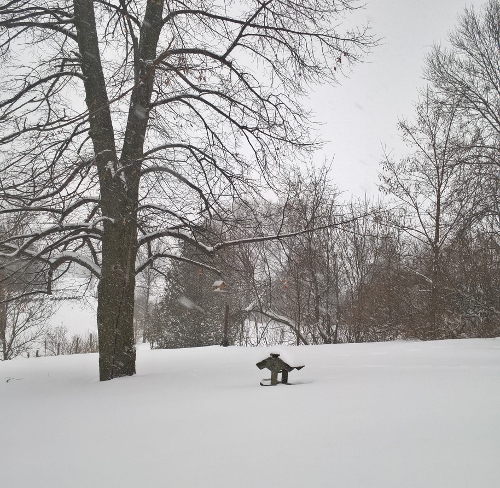 As we stand by the fireplace warming ourselves, we look into the whites and greys of the snowstorm and see breathtaking splashes of red: a woodpecker backing down the birdfeeder tree and the brilliant plump belly of a cardinal flying by.
The girls take a break from shovelling the driveway to make a path for the old dog who does not like steps.  The young dog makes his own break in the snow piles as he runs along the fence racing snowplows, snowmobiles, and coyote hunters.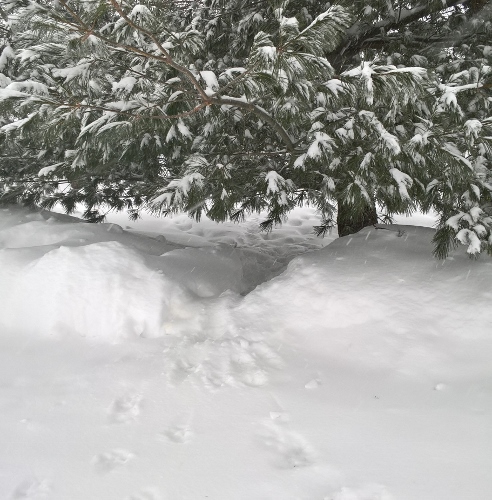 Our whole life this week was determined by the weather.  Although some things go on as usual, the illusion that we can just follow our own plans is, once again, gone.  When God drops a few feet of snow onto our world, like sifted flour on a big bread-baking day, and then tops it with ice, we are stopped in our tracks.  We are, most obviously, not in control, and that is a good thing.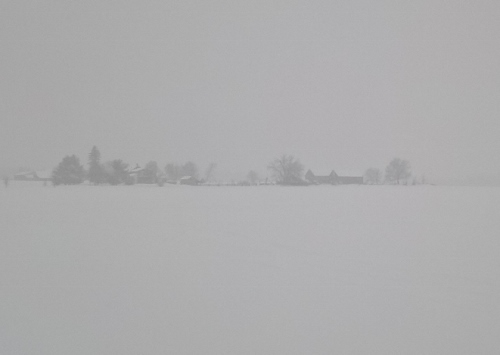 Yes, we make plans, and we should.  However, God may have a different agenda for us, and it is our role to respond trustingly, always trying to determine what his revealed will is for that moment and not clinging desperately to our own plans or fretting about his secret will.  And isn't it a comfort when we are occasionally told very directly—in this case by God's messenger, the weather—what we can and cannot do, when responsibility is lifted off our burdened shoulders and we can just thankfully let go of our busy plans and rest in his schedule?
This week I encourage you to find comfort in God's scheduling.  Not sure he can manage your life as well as you can? Just go outside and see all the amazing things he created and cares for, and remember he created you and cares for you, too.  He cares so much he sent Jesus for you; after that supreme sacrifice, won't he give you everything else as well?
Related Links:
Review:  Just Do Something by Kevin DeYoung, about plans, decisions, work, and trusting God.
Snowed In Homeschool, which shares several homeschooling moms' approaches to this aspect of homeschooling.
—
If you enjoyed this nature devotional, you might want to follow me on Google+, where I often mention helpful or interesting ideas, friend me on Facebook where I occasionally show up, or connect with me on GoodReads where I eventually share what I read.