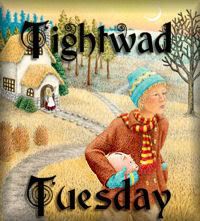 After blessing us with Tightwad Tuesday for a long, long time, Canada Girl decided it was time to move on.   My friend Stacy considered taking over, but in the end that did not work out for her.
…and therefore… (long drumroll, please)  Tightwad Tuesday has come to Tea Time with Annie Kate!
I'm very excited about this and hope that we will be able to share much helpful information with each other, blessing each other as we aim to be careful stewards for our families.
Canada Girl's Tightwad Tuesday was originally focussed on sharing money-saving ideas, but over time I've noticed other sorts of helpful tips as well.
So Tightwad Tuesday is now officially about
 helping each other as we strive to be good stewards of all our resources: money, possessions, time, energy, and health.
Please join in and share your tips, ideas, stories, and encouragement.  Just click on the Linky Tools message below to enter your post. Then enjoy learning from the wonderful ideas of others, and please encourage them with your comments.
Powered by Linky Tools
Click here to enter your link and view the entire list of entered links…
If you have any questions, please leave me a comment and I'll get back to you as soon as I can.
**************************************************************
News about Tightwad Tuesday's new home has been linked to Tuesday's Tips , Tuesday's Tip Jar, Works for Me Wednesday, and Frugal Friday.
Just to make sure the Linky works, I'm entering my own tip that I posted earlier this morning … it's a simple but effective one.  You can access it through the Linky or simply by scrolling down.