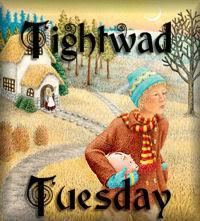 helping each other be good stewards of all our resources: money, possessions, time, energy, and health
So often the main stumbling block to being a good steward is that we lose motivation.  We look around us and see others who are wasteful in so many ways, and we wonder, "Why are we doing all this?"
Assuming your family has the "Why" worked out, all you need are frequent doses of inspiration and encouragement.  There are many different sites that encourage me to make wise use of our money and time, to care for our possessions and health, and to focus on God through all of these challenges.  Here are some I visit regularly. 
Saving Naturally and its sister site Keeper of the Home
Coupon Teacher: Sharing and Celebrating Successes
I've also learned a huge amount from Canada Girl, who used to host Tightwad Tuesday.  I encourage you to visit her Tightwad Tuesday archives for a wealth of practical, money-saving ideas presented in a warm, sisterly way.   
Please join in and share your Tightwad Tuesday tips, ideas, stories, and encouragement.  Just click on the Linky Tools message below to enter your post. Then enjoy learning from the wonderful ideas of others.  Please remember to link back to Tightwad Tuesday so that others can join in as well.
Powered by Linky Tools
Click here to enter your link and view the entire list of entered links…
For more great tips, visit Tuesday's Tips,  Tuesday's Tip Jar,  Works for Me Wednesday,  Thrifty Thursday, and Frugal Friday.