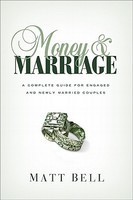 Most people marry someone who thinks differently about money.  I did.  So did my husband.  The difference was that he didn't seem to realize it for quite a while, and I noticed it right away.  This is, apparently, typical.  And there we have it:  money and marriage, a tricky ground for any couple to navigate.
Matt Bell wrote Money and Marriage: A Complete Guide for Engaged and Newly Married Couples to help couples navigate the financial aspects of marriage.
So, what does Matt Bell tell young couples?
First of all, he shows them how their past and their personalities influence their approach to finances.  (Mind you, I don't believe those personality tests since I always fit all the categories.)
Next he provides a 'Ten-Step Action Plan for Financial Success' that involves all the usual information about budgeting, income, tithing, saving, debt-avoidance, insurance, housing, and taxation.
Finally he outlines how to 'Foster Financial Oneness', discussing concepts like prenuptial agreements (avoid if possible), the financial details that must be dealt with before marriage (important), and how to organize the family finances and records (simply).
Throughout the book Matt includes detailed and helpful charts, tables, and more, many of which can be downloaded at Matt About Money.
The core of the book lies in the final chapter, "What It's All About."  Matt points out that we're not owners or consumers of our resources, but rather stewards, managing them for God.  He says that our life's purpose is to love God, to love people, and to make a difference using the talents God has given us.  Our goal should be to arrange our finances around these three God-given purposes.
Money and Marriage, with its helpful, wise, and detailed information, could easily improve a couple's financial health.  Since couples tend to fight more about money than about anything else, this book could also lead to happier, more peaceful, and more financially successful marriages. 
The big question, however, is:  would both parties be interested in reading it, working through the exercises, and applying it?  While a newlywed, I would have wanted to study it with my husband, but he would not have been interested.  That seems, to me, to highlight the difficulty of this type of book:  it's helpful if both parties are interested, but it could also lead to quarrelling if one person wants to follow the book and the other one doesn't.  I suspect that, also, would be a good thing to know before getting married.
This book is aimed at engaged and newly married couples, although the sections on 'Financial DNA' and organization could benefit older couples as well.
Note: Much of this book discusses US laws and taxes.  It would not be nearly as helpful for someone in another country.
To see what other reviewers thought of Money and Marriage please visit the blog tour.    You can buy the book here.
Disclosure I received a free copy of Money and Marriage from Litfuse in order to give you my honest opinion of it.
This is my 8th book in the 52 Books in 52 Weeks Challenge.