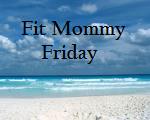 encouraging each other
to care well
for the bodies God has given us
My personal goal is to regain strength after a debilitating illness so that I can live a healthy, active life with my family.
Your goal may be to lose weight, look better, feel better, or run a marathon.  Whatever it is, please feel free to join Fit Mommy any time, no matter what your current level of fitness is.  You can check in using the comments at the bottom of this post.
We had Grandma and Grandpa over.   And I fought a cold.  And the ground was covered with yet another layer of fresh ice.  Despite all this, I did manage to pay some attention to my health and fitness.
Record my fitness accomplishments each day…Yes.
Do my eye exercises 5x a week …No. I often do them while waiting for the children's responses in French, but didn't feel comfortable doing them when we had company.
Go for a daily walk and take at least 6000 steps a day … I took only one good walk outside due to all the ice.  Even so, with one thing and another, my step totals were not too bad:  5200, 8500, 7000, 5900, 6500, 5300.
Do my physio exercises daily … I did them three times, and I'm proud of managing that with company over.
Do my organ keyboard and pedal exercises… I did them several times.  The pedal exercises cramp my feet, but I can tell that my lower arms are getting stronger.
Learn T-Tapp… I got no further with this, although I did practice what I already had learned.
Avoid sugar five days a week … No.  My downfall was the punch (juice and club soda) that Miss 11 made.  It was delicious.  I also splurged on gluten-free corn flakes that contain sugar, of course.
Eat lots of vegetables, including fresh ones, and yoghurt … Yes.  We enjoyed a lot of fruits and vegetables, as well as some yoghurt.
Relax daily…Yes.  Fighting that cold, I needed extra rest in the afternoons as well as at night.
Have fun with the kids, including active fun… The kids played games with Grandpa all week, and we did not read aloud at all while he was here.  But that's OK.  Grandpa loved it, the kids loved it, and everyone was so happy and busy!  I did go for one walk in the woods with some of the children.
How about you? Did you exercise, eat well, and relax happily this week? Let's encourage each other to care well for the bodies God has given us. Please link up your health and fitness post in the comments below, and don`t forget to link back here from your post. Then enjoy visiting and encouraging other Fit Mommies just like you.
Note: Fit Mommy Friday is the Health and Fitness Check-In column of The Christian Home Carnival.