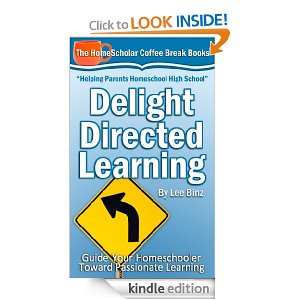 Lee Binz is offering Delight Directed Learning, one of her Coffee Break Kindle ebooks, for free today, in exchange for your review on Amazon.
I always like what Lee has to say about homeschooling.  Although I haven't read this ebook yet, I feel safe in recommending it.  Here's what she says about her book:
It's a short book, very fun, and it will encourage you to LOVE homeschooling and instill the love of learning in your child.  When you are done with the book, please rate your experience.
Enjoy!  I'm sure you'll be inspired by it.
Disclosure: As usual, I am in no way compensated for telling you about this freebie.