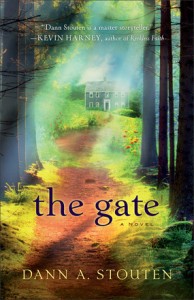 Well, I've never read a book like this before.  Or maybe just one, a long time ago, that I couldn't understand at all and did not want to either.
That's how it was with The Gate at first, too.  I wouldn't, couldn't let myself open up to the book.  Then, at page 82 I suddenly gave in and started folding the corners of the best pages, dozens of them.  I'm still not sure I understand or even approve of the way Dann A. Stouten tells the message of the gospel, but it no longer matters, because God has sent me that message again, through this book.  Now there's peace, understanding, and acceptance of things that were beyond me.
Schuyler Hunt, big brother to Ben, as well as husband, father, son, nephew, and discouraged psychologist, needs a break, and when the opportunity presents itself he goes for an unexpected vacation all by himself.    He meets many people one would not expect to meet at an out-of-the-way vacation cottage, and as a former car dealer, he is almost as fascinated by the different cars that come roaring up to the cottage as he is by their owners.  Almost, but not quite, for these are all people he loves.
Solidly Dutch, seriously Christian, and flawed like every human being, Schuyler struggles with his past as he contemplates his future.  This holiday has changed him.
It's not often that the Reformed faith is presented in such a compelling way.  Despite the fact that this is really a book for car-loving men, God used it to speak to me.  I don't know if he will speak to you, but he could.  And I think that was Dann Stouten's hope all along.
This is yet another book in the in the 2013 52 Books in 52 Weeks Challenge and is also linked to Saturday Reviews.
Disclosure: This book has been provided courtesy of Baker Publishing Group and Graf-Martin Communications, Inc. and is available at your favorite bookseller from Revell, a division of Baker Publishing Group.