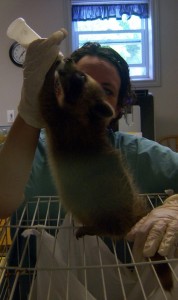 In my life this week…
We gardened, did yard work, and went out.  And Mr. 18 is still working hard to finish grade 12.
In our homeschool …
Last Saturday we visited a wildlife refuge where skunks, turtles, squirrels, and raccoons are cared for until they can be released into the wild.  A dear girl who lives with us works at this refuge and it was so special to see how the animals are cared for!  I especially loved watching the raccoon drink from a bottle.
We need to wrap up the school year, clean up the books and papers, and finalize the records.
Miss 10 is spending much of her spare time reading.  Early this morning I found her on the couch, fast asleep with a Nancy Drew book lying open on her chest!  Hopefully we'll get to her pile of papers today.
Miss 13 has organized her papers of the past year beautifully.  Because she is always neat and organized, this was not a huge amount of work for her.
Miss 15, who has not been feeling well, made a list of the work she managed to do in the past year. Now we're trying to determine how to make the last two years of school work for her and what can be done in the summer.
Mr. 18 finished calculus, advanced physics, and advanced chemistry.  Right now he's discovering the joy of writing research essays and doing a bit of original research as well.
In our garden…
Much of what we seeded last week is coming up:  beans, corn, cucumbers, melons, pumpkins, and squash.  The cabbage, broccoli, cauliflower, and kale are being attacked by some mysterious nibbler.  We sprinkled cornmeal around them, but we may have to resort to our molasses pesticide.  We are eating asparagus, chives, Japanese greens, radishes, spinach, strawberries, and salad greens.   We have almost caught up with our weeding, except for the self-seeded parsley patch which is still full of baby couch grass.
Our primroses are just beginning to bloom, and the roses, irises, snow in summer, orange poppies, and lupins are still beautiful.   Yard work this week has involved weeding flower beds, cleaning debris from under the pine trees to get rid of pests, removing burdocks from the edge of a hill, mowing (finally), raking up the resulting 'hay'.  I still want to transplant and plant some more in one of our flower gardens.  We really need better soil there rather than the rocky stuff we have.
In the kitchen… Brownies, bami (a Dutch-Indonesian noodle dish), soft caramels (!), chocolate chip banana bread, bruschetta, flat bread, home-grown salad, watermelons, ribs, raspberry-tofu smoothie, home made yoghurt, flax bread, stir fry with freshly-picked greens.  All gluten free, of course.
Some of my favorite things were…
Playing Dutch Blitz with the kids.
Our neat(er) yard.
Time with friends.
Watching that baby raccoon drinking from its bottle.
Tasting those caramels.
Knowing that Mr. 18 is almost finished his school year.
Swimming.
Questions/thoughts I have…  What will next school year look like?  We're discussing outside activities, educational styles, and requirements.
Fitness… After that cold, I'm back to exercising, walking regularly, and being active much of the day.  Summer is wonderful!  Average steps per day this week: 9350.  We played monkey in the middle in the pool, and I was able to keep up!
Things I've been working on…
Wrapping up the year's homeschooling.
Mr. 18's transcript.
Planning our summer.
Planning next year's homeschooling.
Gardening and yard work.
Feeding my family.
Resting.
Learning more about Pinterest.
We're watching…
The girls watched Beauty and the Beast by Disney, and Miss 12 found it frightening.  Oops!
I'm reading… Psalms.  I finished A Day in the Life of Ivan Denisovich and I'm slowly reading Pinterest Power.  Cooked, and Mathematics: Is God Silent? are on hold for now, while the garden weeds are sprouting.
Reading Aloud… We're reading 2 Chronicles and Madame Curie. Even though it's good, I'm really starting to look forward to finishing this book; it's enormously thick for a heavy read aloud.
When my husband is home for meals we read Matthew, but he's been away all week.
I'm grateful for …. Sunshine.  Warmth.  Energy.
Quote or link to share….    If you like to read about new ideas, sign up for the Critical Thinking Company Parent Newsletter and enjoy the section entitled 'Mind Empowering News.'
This post is linked to Kris's Weekly Wrap Up , This Week In Review, and HomeSchool High.