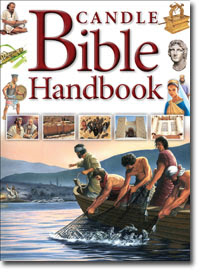 Any person, Christian or not, who aims to understand Western literature, art, thought, and science must have a working knowledge of the Bible.   After all, it is the most read and most influential book in Western culture over the last two millennia.  In terms of homeschooling, this means that the Bible should be a foundational book in all homeschools.
Of course, this is especially true for Christian homeschools.  As we all know, we Christians should have a deepening and growing knowledge of the God's Word to us, and we should teach our children about it.
But there is a problem.  The Bible can be a confusing book, especially for young or new Bible readers.  It is long, is made up of many very different books, and is full of unfamiliar names, places, and customs.  Even seasoned Bible readers can use some guidance once in a while.
I have just finished reading the Candle Bible Handbook and love it.  Yes, I have read through the Bible well over two dozen times in my life, studied it, read books about it, and listened to thousands of sermons, but this well-illustrated guide gave me something that all the detailed focus did not:  a bird's eye view that really ties many ideas together.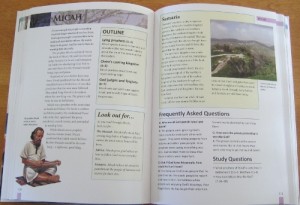 And it can do even more for our kids who are so much newer to the Bible.
It tells them about the big ideas, the main people, and the main points of each book in the Bible
It gives an overview of the Bible itself, with explanations of important concepts (Old Testament, tabernacle, Jerusalem, New Testament, the life and times of Jesus, Jesus' miracles, Paul's missionary travels, and more), as well as timelines, maps, and informative illustrations.
For each Bible book there is
an introduction,
an outline of the book,
a list of frequently asked questions,
some study questions with chapter and verse references,
an explanation of an important concept (covenant, musical instruments, other nations, Messiah, festivals, idols, spiritual warfare, justification by faith),
a list of things to look for as you read the book, usually themes and major or recurring events, and
a handful of quality illustrations.
Appendices discuss big ideas, promises, important passages, and prominent people of the Bible.
This sounds overwhelming, but it is all written simply and clearly, aimed at ages 7 and up but also helpful for teens and adults.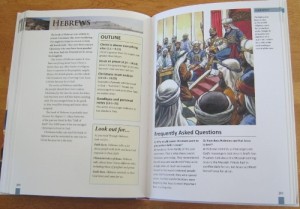 Of course, with any book about the Bible, we always need to be sure it actually encourages readers to believe and respect the Bible.  It seems to me that the Candle Bible Handbook does a good job of this.  It is faithful to the Bible's message, points out the gospel, explains difficult concepts simply, and mentions points of contention (like baptism) in a broad, inclusive way.  This book should benefit Bible-believing Christians of all backgrounds.
One sure way to examine the trustworthiness of a book about the Bible is to see what it says about Genesis.  The Candle Bible Handbook is exemplary in its simplicity and brevity:
Q: Is Genesis really true?
A: Yes, we know it is true, because it is part of God's Word.  Jesus quoted from Genesis a few times.
Very rarely am I impressed by the look of a book, but when I opened the package containing the Bible Candle Handbook, I could not help exclaiming in delight.  It is beautiful, classy, well-bound, and well laid-out.
I am still undecided about how we will use the Candle Bible Handbook in our homeschool.  It will certainly be helpful to our teens who are required to write a report about every book of the Bible for high school. I think it could also be a valuable reference in our mealtime Bible reading.  Perhaps we will actually read through it out loud together, or I may assign it as schoolwork for Miss 11 next year.  One thing I do know for sure: this book will be used in our home.
Unless you already have a simple, comprehensive Bible handbook, I recommend you check out the Candle Bible Handbook.  It is an excellent introduction to the Bible for our children as well as for new Bible readers of any age.  It also provides a helpful bird's eye view for seasoned Bible readers and makes an excellent reference book.
—
Please excuse the poor quality photos.  For some reason my camera would not focus well.  Hopefully the photos will still give you an idea of what the book is like.
This is yet another book in the in the 2014 52 Books in 52 Weeks Challenge and is also linked to Saturday Reviews, Trivium Tuesdays, Finishing Strong , Works for Me Wednesdays, Booknificent Thursdays, and Raising Homemakers.
Disclosure: A copy of this book was provided by Kregel for the purpose of this review; the review represents my own honest opinions.