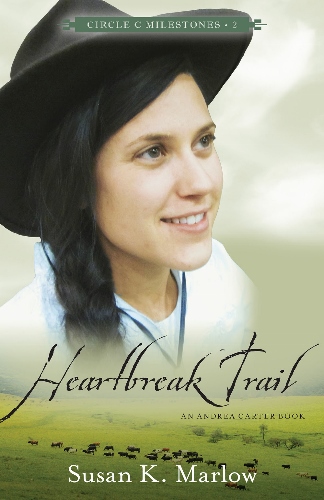 Andrea Carter is almost 15, a very special birthday in 19th century California. However, instead of a having a huge party to celebrate, Andi wants to go along with her brothers on a cattle drive.
It takes a lot of convincing, but with her brothers' help she finally gets permission from her mother to go…as Cook's helper, mind you, not as a ranch hand, but that is better than nothing.  Before long Andi realizes that a cattle drive is not all she thought it would be, and mosquitoes, endless dishes, and fatigue wear her out.  However, the handsome Toledo and his magnificent horse Sultan are a novel attraction and all goes well until the thousand cattle need to ford a flooding river.
Suddenly she is needed to do much more than help Cook, and the rest of the cattle drive tests every ounce of her determination, skill, and courage.  She learns to endure when she faces difficulties, but she also realizes that it is perfectly alright to change her dreams after she has met her responsibilities.
Once again Susan K. Marlow has written an absorbing novel with believable characters, strong family ties, horses, and lots of ranch-style danger.  Andi and her family are friends to us from previous Andrea Carter Books, but Heartbreak Trail can be read on its own, too.
I recommend this Christian novel for young teens who love horses and history.  It will keep them reading and maybe even rereading, filling their heads with hopeful dreams as well as a good dose of reality.
—
This is yet another book in the in the 2015 52 Books in 52 Weeks Challenge and is also linked to Saturday Reviews, Booknificent Thursdays, Literacy Musings Monday, and The Book Nook.
For more encouragement, visit Raising Homemakers, Titus 2 Tuesday, R&R Wednesdays.
Disclosure: I received a copy of this book from Kregel for the purpose of this review.  All my opinions are my own, and I am not compensated for sharing them.