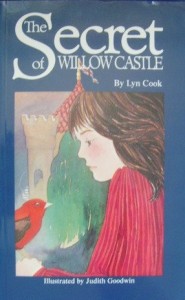 Eleven-year-old Henrietta Macpherson cannot seem to do anything right.  Her loving but stern father  is so disappointed in her wilful response to the beautiful gift from cousin John Alex  that he puts it aside until Henrietta is older and also forbids her to attend the skating party in John Alex's honor.
He calmly points out that both John Alex and he 'have frequent dealings with people who think too much of themselves, and we don't want you to be one of them….'  John Alex agrees, Henrietta has a temper tantrum, and that is the end of that.
Even though her maid Becky does the best she can with her unruly charge, Henrietta does manage to slip out of her room during the party, and she sees a waif-like child watching the skating party from behind a bush.
From that moment the orphaned servant girl, Sarah, fills Henrietta's thoughts and life through adventures with a secret desk compartment, fairs, a circus, and more.  Eventually the two girls find a secret meeting place near her father's grist mill.
As the year rolls on, Henrietta's secret friendship with Sarah deepens and the two girls share adventures and hopes.  But it isn't until disaster threatens first Sarah and then Henrietta that Sarah's future is secured….
I read The Secret of Willow Castle aloud to my 13 and 15 year old daughters this fall, and at one point they asked for so many chapters in a row that I lost my voice.  I, too enjoyed it, both the first and the second time I read it.
This story of Upper Canada's prosperous class is an appealing counterpoint to the more common pioneer stories.  Henrietta's father  was Justice of the Peace and Crown Land agent in Napanee, a small town in Upper Canada in the early 1900's; her home has been restored as a museum; and her beloved cousin John Alex was no other than Canada's future first prime minister.  Thus The Secret of Willow Castle brings the politics, beliefs, activities, and behaviors of early upper class 19th century to life.
I think this delightful novel full of gentle surprises will appeal especially to girls. Henrietta's change from a self-centered manipulative sneak to a kinder and wiser girl could also generate discussions.  This book is recommended for middle school and early high school as an accompaniment to Canadian history studies, and also to anyone interested in the history of Upper Canada.
The Secret of Willow Castle is out of print but worth looking for in libraries.  Canadian author Lyn Cook was internationally known several decades ago and has written many worthwhile children's books.
—
This book forms part of our multi-year, literature-based Canadian History course . This review is linked to Finishing Strong , Trivium Tuesdays,  Saturday Reviews, Booknificent Thursdays, Literacy Musings Monday, and The Book Nook.
Disclosure: We bought this book at a second hand book sale, and I am not compensated for this review.