Every fall we take a week off from regular schoolwork and focus on books.  This is a rest and a reward for the fall's hard work.  It is also a huge game changer educationally, as we take time to explore new ideas.
This year we were sick during reading week but even so it was very good.
We had some books for nostalgia and pure relaxation, like Swallows and Amazons, Freddy the Pig, and Asterix.  We looked at picture books, like Anno's culture books (ideal for classical education), Jill Barklem's amazing Brambly Hedge series, Bill Peet's zany stories, and art books. We read fiction as well as science, psychology, homesteading, health, organizing, statistics, motivation, and art.  (In the past I would have been reading aloud as well—we have enjoyed so many excellent books together including these Top 20 Family Read Alouds.)
It can be a transforming opportunity for kids to have no learning responsibilities except reading for a whole week. For teens, it is a chance to explore possibilities for the future.  As Cal Newport points out in How to Be a High School Superstar, it is crucial to take time to explore and develop new interests.  And even if this particular reading week does not spark any new interests, it is still a special time to anticipate, enjoy, and remember.
Not that reading week is necessarily restful.  Reading can be very hard work.  It can be very intense, intellectually, emotionally, and spiritually and even the Bible points out that 'much study is a weariness of the flesh'.  Therefore we need to make opportunities for other things as well, like physical activity, good food, creativity, laughter, and music, but not for extra screen time.
The Bible also tells us to beware of anything beyond the teachings of the wise.  Now, we know that the fear of the Lord is the beginning of wisdom, but we also know that even unbelievers can discover and write about parts of the truth.  It has been said that because we are people of the Book, we need to read other books as well as the Book.  However, choosing books carefully requires wisdom and practice; this is a week of going through piles of books and learning how to choose the best.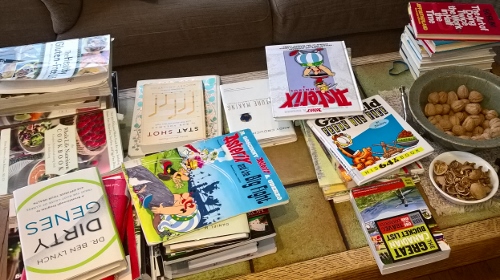 But enough of these generalizations.  I am often asked practical questions about reading week and here is a list of answers, reposted from the past—you'll notice that we reread certain books regularly:
What's Reading Week?  Well, one week a year we take time off from formal schoolwork and spend an entire week reading.   Yes, we still feed the chickens, go for walks, eat, and sleep.  We even manage some music practice.  But, mostly, we read.
What do we read?  Whatever we're interested in.  This year we have all the Bill Peet picture books out again; that seems to be an annual tradition that we all love.  Miss 12 has a pile of Nate Wilson books to explore, I want to reread some gluten-free living books, Freddy the Pig has come back once again to entertain us all, and we've ordered all the David Macaulay DVD's and books (Cathedral, Castle, Motel of the Mysteries, etc.) that the library has.
But why?  Is there a reason we do this?  Obviously, there's nostalgia, like our annual Bill Peet indulgence.  And there's is learning, like the books about Van Gogh and about writer's groups.  There is pure enjoyment, like Peter Speier's wordless picture books and Don Aslett's hilarious dejunking books.  And there is excitement, as in the Asterix, Beowulf, and The Cricket on the Hearth.
The other reason is quite practical.  We live close to a tiny country library in a city-wide system of huge libraries.  Our library is often on the endangered list, quite literally, and as homeschoolers we depend on it.  So, years ago, we began our Reading Week to coincide with our library's annual counting week.  I suppose it's actually Save the Library Week.
It's the week we order more books than usual, visit the library every day, and pull a lot of books from the shelves.  We also request a lot of books from other branches.  Usually we have 50 or so books requested; during reading week it is often over 200.  Usually we have less than 80 books out; during reading week it is several times that.  Our reading week helps the library's statistics, and our librarians are grateful to (and proud of) 'their' homeschoolers.
And the final big question:  Will we ever read them all?  No.  There are already three books in our return box, one of them full of blasphemy on the only page I checked.  We don't need that.   But we will read most of them.  Our children are amazingly fast readers, and I'm no slouch at whizzing through a book either.   A lot of the books will be enjoyed from cover to cover.  On the other hand, I won't read every recipe in every gluten-free cookbook.   I'll skim through many books and study a few in great detail.  And Asterix will be read, reread, and chuckled over.
There are, of course, a few more niggling practical matters:
Where do we store all those books?  In rows and piles in front of our bookshelves. (Or, this year, in piles in the middle of our living room, as you can see above.  Sigh!)
How do we keep track of them?  Very carefully, according to our usual system for avoiding library fees.
Doesn't it make a mess in our house?  Yes, and after a month I'm always thrilled that most of the books are gone.
Are we invalidating the library statistics?  No.  As you can see from the numbers above, we're taking out more books than usual, but not that many more in terms of a library's output.  Just enough to make the librarians love us, not enough to make them hate us.
We love Reading Week.  Great books, no schoolwork, special snacks, and the opportunity to really delve into one author's works are all wonderful treats.  We have learned, though, that we must keep a bit of a normal routine of mealtimes, chores, and outside time or everyone will become grumpy in a few days.  It's true that reading can be over-done.
But my homeschooled kids know my weakness and love to point out, "You learn from reading, Mom!"   Implying that therefore it's all OK, and, really, it is, because it's as much of a break for mom as for the kids.
If you've never enjoyed a Reading Week, try one.  You might be starting an annual tradition and even if you don't it will be a memorable week at worst and a life-changing one at best.
—
Note:  The links above are to my reviews or articles; there are no affiliate links.
If you enjoyed this, you might want to follow me on Google+, where I often mention helpful or interesting ideas, friend me on Facebook where I occasionally show up, or connect with me on GoodReads where I eventually share what I read. 
This article may be linked to Saturday Reviews, Booknificent Thursdays, 52 Books in 52 Weeks Challenge, Literacy Musings Monday, and The Book Nook  as well as to Inspire Me Monday, Raising Homemakers, Friendship Friday, Make My Saturday Sweet.