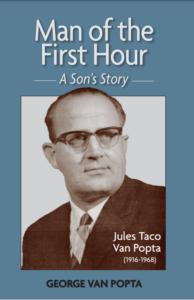 In Man of the First Hour, George van Popta discusses the life of his father Jules from his youth in the Netherlands, through the war years, and to the end of his life in Canada.  In doing so he also portrays the roots of the Canadian Reformed churches and gives us a glimpse into the past—its everyday life and its ways of thinking—that we do well to consider today.
Jules's father Taeke, a man so devoted to learning that he would put his feet into cold water to be able to stay awake while studying, was headmaster of a Christian school and heavily involved in various church, educational, social, and political organizations. He strenuously opposed the Nazi movement in the Netherlands which lead to his death in a concentration camp when Jules was a young man.
Jules himself was quite a character and so was his spunky wife Helen. The first time he walked home with his future wife he was too shy to speak so she said, "You are silent and I am listening."   Later, to her frustration, he wrote her theological treatises rather than love letters.  When World War II began Jules was a student but was soon was forced into hiding.  Helen worked as a nanny in a family that sheltered fugitives, including Jews, and printed a small underground newspaper.  Had she been afraid then, her children asked her later.
Her reply was refreshing.  "We didn't worry too much.  We just lived each day as it came.  We knew we should help if we could.  And we trusted that God would take care of us." 
The two were engaged before the war but not married until a few years after, when Jules had a position as a minister.
The rest of the biography relates how Jules served the churches in the Netherlands and later in Canada and tells how, at one point, his burden became too heavy for him.  Like some stories about more famous Christians, this one shows a deeply human person dedicated to serving God to the limits of his strength…and what happens when that strength fails. Of course, there is much more and Man of the First Hour is actually a biography of both Jules and the young Canadian Reformed Churches.  This may sound like dry reading but the book is enjoyable, partly because Jules, Helen, and the churches are portrayed with humor and compassion as well as love and respect.
As a pastor Jules advised the immigrant community on many issues and some of these writings are presented in the book's 11 appendices.  He discussed union membership, matters relating to the Dutch church struggle of 1944, faith and science, the state, space flight, and Descartes.  His articles show how a gifted person with a classical education approaches topics that must be addressed. As we grapple with today's issues this clear thinking is an example to us; it is also an also encouragement to those doing the hard work of education, whether as student, parent, or teacher.
The article on the meaning of becoming a Canadian citizen is especially relevant today as we try to understand our responsibility for the sins of our predecessors from a biblical, not woke, point of view. Some might say that Man of the First Hour is worth getting just for this article, although if Jules's point of view is indeed correct* we should all be much more enthusiastic about preventing further societal abuses such as euthanasia, abortion, and others. In any case, considering current thought, we cannot avoid this topic.
The book ends with three sermons which give an example of Jules's spoken voice, complete with Dutchisms, and written, obviously, from the viewpoint of the '60s.  They are an encouragement also for us in our current philosophical, political, and cultural situation as they point us to our Lord, show us how to serve him, and show us how he is working for his church through history.  One comforting message is that difficult times are not signs that God is absent but signs that he is busy working.
Since my review of Man of the First Hour was postponed repeatedly, I read most of the book three times (not a bad thing at all) and a few thoughts stood out:
The world and worldview of the past are not like those of today; this book can give us 21st century Christians some lessons on how to live.
We need to consider human limitations, our own as well as those of our pastors, in order to live wisely in the communion of saints.
Helen van Popta was a remarkable woman. Or could that be because we see her through the eyes of a devoted son?
Difficult times are not signs that God is absent but signs that he is busy working.
God works through good times and bad and, despite what some would have us believe, faithful Christians can and do suffer, just as Jesus said they would.
Canada and, in particular, the Canadian Reformed Churches, can be grateful that the Lord gave Jules van Popta as a shepherd of his flock.  Although Jules was careful, when asked by little George, to answer that, no, he was not the first minister in Canada; there were many, many before him, yet he was the first minister of the Canadian Reformed Churches, and as such is worthy of note.  Even more so, then, when his life was eventful and his past dramatic. He was a blessing to these churches and through them to many others in our country, just as this book could be.
Jules Van Popta's story will be especially valuable to members of the Canadian Reformed Churches but is also for those interested in Canadian history, Christian biographies, and Christian thought.
Man of the First Hour is available from Reformed Perspective Publishing where one can read the table of contents and the first chapter, as well as from Amazon.
—
*This is not a given, and there are many nuances. See, for example, the discussion of social justice in Mama Bear Apologetics or in this article.  Even if Jules is wrong and we are not personally responsible for the sins of our predecessors, we are, of course, still responsible to do what we can to oppose current evils.
Disclosure:  I received a review copy of this book. As usual I am not compensated for this review nor was I obliged to give a positive review.  I wish to thank the author and publisher for their patience as this review was postponed repeatedly.