Well, it's time for the big Homeschool Blog Award nominations again, and I'm entering these friends: 
Carmen at In His Hands for the Best Photos and Artistic Content.  I love the pictures of her family and her life, and I also love the inspiring posts she writes. 
The Curriculum Choice for the Best Family or Group Blog.  This is a great place to read reviews of all sorts of curriculum.  Unlike some other review blogs, this one is about products families actually use, rather than just receive to review.  There can be a big difference.   I'm proud to write for The Curriculum Choice.  
Jenn at Busy at Home for Best Encourager.  Jenn is busy at home, devoting herself to her family, but she often makes time to encourage other homeschooling moms with her comments.
For Best Teen Blog, I'm nominating Miss 12 at Blogging Beth.  It was tough deciding between her and Miss 17 at Holstein-Friesian. However, Miss 12 has been posting more often, so I'm nominating her.  She has written some great reviews and has also posted our scrumptious gluten-free chocolate cake recipe.  And, yes, I may be a bit biased, but that's a mom's prerogative, isn't it?
Barb at Handbook of Nature Study for best nature blog.  This is so helpful!
As a bit of a spoof, and for the blogs that don't fit in any of the official categories, Lori is hosting the new Homeschool Misfit Awards.  These are awards for which you can nominate yourself … and any friends who don't feel insulted easily.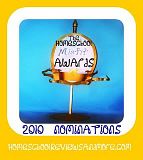 Since I've been wondering whether I blog too much (especially those days when I don't have the strength to do much of anything physical), I entered myself in the Too Busy Blogging Award. 
My husband, however, doesn't think I spend too much time at it.  And more than once, when I've started micro-managing my children, they've gently taken me by the shoulders and turned me away, saying, "It's OK, Mom.  Why don't you go write a blog post or something."