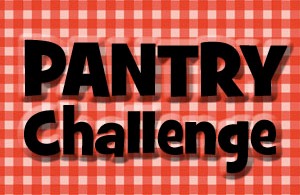 Because we have company, we took a bit of a break from the pantry challenge last week.  I bought salad, fresh veggies, and lots of fruit.  What a treat that was, after eating mostly frozen fruit and vegetables for a few weeks!
It was the last week of Jessica's pantry challenge,  and we met our goals:
To have one of our large freezers half empty by the end of the month… both of them now have a lot of free space.
To cut our food bill by 30% for the month… even though we bought about 100 pounds of meat on sale, we still saved a lot on our food bill. I don't know exactly how much, since my husband does the numbers when the month is over.
To finish or freeze the remaining butternut squashes… no, but hardly any of them are left, and other years we would still have a few dozen squashes and pumpkins by the end of January.
To eat many of the carrots we have stored in sand in the pantry… Yes, we've eaten a lot–in soups, cooked, in stir fries, as carrot sticks, and in a yummy pineapple-carrot cake.
Although the challenge is over, I'm going to continue our new habit of eating out of the freezer and pantry as much as possible.   It's sensible, frugal, healthy, and fun…and it makes store produce such a treat!  Perhaps this spring the freezers will be under control and we'll have one empty before we begin adding the next year's harvest, starting in June with asparagus, and ending in January with squash and pumpkin.
This is what we ate from our freezer and pantry last week:
soup veggies
leeks
pickled beans
butternut squash
pumpkin puree
elderberries (in a rapsberry elderberry crumble)
raspberries(in a rapsberry elderberry crumble)
honey (last year we got none; this year we have lots)
carrots (homegrown and still keeping well)
potatoes
purple onions (homegrown and still keeping well)
berry juice
spinach
frozen tomato (spaghetti)
cheese
seven day's worth of meat
various staples like rice, rice noodles, popcorn, tinned beans, tinned pineapple, and gluten-free flours
Thanks to Jessica for inspiring a January Pantry Challenge.