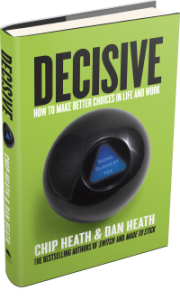 Teens and young adults have some major decisions to make, life-altering and eternally-important decisions about faith, college, career, and marriage.  How can we encourage them to make appropriate choices?  Obviously we discuss the contents of their decisions with them; that's part of being a parent.  However, now that the book Decisive has been published, young people can also learn to improve their decision-making skills.
In Decisive the Heath brothers discuss how we make choices.  By analysing both good decisions and bad ones, they show How to Make Better Choices in Life and in Work. This is exactly what our high schoolers—and we ourselves—need, because we all apparently tend to be biased, irrational, and emotional when making decisions.
With their ideas firmly based on decision-making research and engagingly presented using real-life examples, Chip and Dan Heath show us how to recognize our bad decision-making habits.  What's more, they carefully explain techniques for overcoming each one.  All of these techniques have been organized into a practical four-step process to help us apply them:
Widen your options
Reality-test your assumptions
Attain distance before deciding
Prepare to be wrong
To further increase the usability of their book, the Heath brothers end each chapter with a comprehensive point-form summary.  When you're making a decision, you can easily remind yourself of every detail in the book by rereading these summaries.
Understanding some common decision-making mistakes and learning how to prevent them are two valuable skills that we should encourage our teens to learn.  Of course they will still make mistakes, but after reading Decisive they will be equipped to make choices that agree with their values.  They will be better able to move beyond short-term emotions, wishful thinking, advertising, Hollywood, and politically-correct professors.
Easy to read, full of fascinating stories, and completely appropriate, Decisive presents research results in a way that appeals to all.  My teen son loved it and so did I.  This is one of the few books that I can recommend whole-heartedly and without reservation.
Choosing to read Decisive and share it with your teens can be the first in a lifetime of better decisions.
This is yet another book in the in the 2013 52 Books in 52 Weeks Challenge and is also linked to Saturday Reviews, Trivium Tuesdays, Encourage One Another Wednesday, Works For Me Wednesday , Raising Homemakers, Be Inspired by Others Homeschooling Link Up, and  HomeSchool High.
Disclosure: For the purposes of this review, I received a free advanced reader copy of Decisive from Chip and Dan Heath. I have expressed my own opinion.