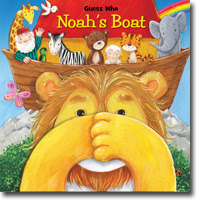 This book looked so adorable that I agreed to review it even though I have no little ones of my own anymore. The book itself is as cute as its picture, and is so much fun.  Even the lion's paws on the front cover flip down to show his face.
Guess Who Noah's Boat is a cheerfully illustrated board book about the animals on Noah's ark.  Each two page spread has a four-line rhyme so that little ones can help Noah find which animal is hiding.  Then they can lift a sturdy flap to see if they were right.  In each case just enough of the animal peeps out from behind the flap to jog a toddler's memory even if the rhyme doesn't.
Of course, this book does not show the true meaning and devastation of the Flood, but that is beyond the grasp of most toddlers anyhow. Instead it is a happy book that can be read over and over again, vaguely based on the fact that there was a flood and that it ended.
If you are looking for a sturdy, cheerful, interactive book for a toddler in your life, this might be a good fit. Since I was just yesterday adopted as an honorary auntie, I know who will get my copy of Guess Who Noah's Boat!
Disclosure:  I received a review copy of this book from Kregel in order to share my honest opinions.