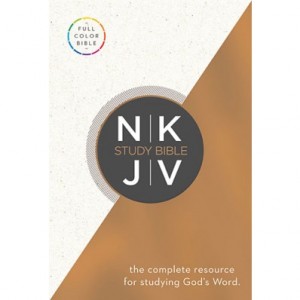 A Bible is, well, a Bible, right?  Even though there may be differences in translation, these rarely have a significant effect on how we understand it.
However, when it comes to study Bibles, there are major differences that can seriously impact our understanding of God's Word.
The New King James Version Study Bible, Full Color Edition, is the latest one I've seen, and its color makes it different from all the rest.  The vibrant maps, photographs, tables, and more are a great help to understanding the Bible, its culture, and its times.
In other respects, the NKJV Study Bible, Full Color Edition is similar to most study Bibles, with many standard Bible study aids such as cross-references, word studies, book introductions (including outlines and timelines), notes and articles, and a concordance.
However, the contents of some of this material suggests more modern thought than, for example, the NKJV Reformation Study Bible does.  This approach to debated Bible passages could be a problem for Christians who hold to traditional interpretations of the Bible, but would appeal to others.
There are also the physical aspects:
The NKJV Study Bible, Full Color Edition is physically heavy, perhaps too heavy for a frail person to carry around to church and Bible Study, although most healthy people will not find that an issue. But then, most study Bibles are heavy.
This study Bible has reasonably sized font, both for the text of the Bible itself and for the study material, and is easy to read. This is an important consideration for the very young, those above middle age, and those with vision problems.
Would the NKJV Study Bible, Full Color Edition, be a good investment for you?  Its colorful maps, photographs, and more are very appealing, and it is full of quality study material.  On the other hand, traditional Christians might prefer different emphases in the discussions of a few controversial points.
This post is linked to Saturday Reviews, Works for Me Wednesdays, Booknificent Thursdays, Raising Homemakers, Finishing Strong, Mom to Mom Monday, and R&R Wednesdays.
Disclosure: I received this book from Booklook Bloggers in order to review it.  I have expressed my own honest opinions.