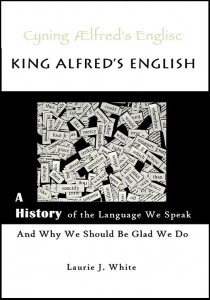 This year I was looking for a way to teach my girls about the English language without teaching grammar itself.  I wanted to give them an understanding of its beauty and history so that they would learn to love it and also be able to use it more skillfully.
And then I was offered King Alfred's English to review.  What a perfect resource to meet those needs!
In King Alfred's English, Laurie J. White combines a study of history, linguistics, English literature, and the English Bible to show us the miracle of the language we speak.  From Caesar in 55 BC through Old, Middle, and Modern English, she traces native and foreign influences on the English language and shows how they affected both the structure of our language and its vocabulary….
To continue reading this review, please visit the Curriculum Choice.
—
For more homeschooling inspiration, visit Finishing Strong, and Trivium Tuesdays, Raising Homemakers.
Disclosure: I received a review copy of this book and, as usual, am not compensated for this review.