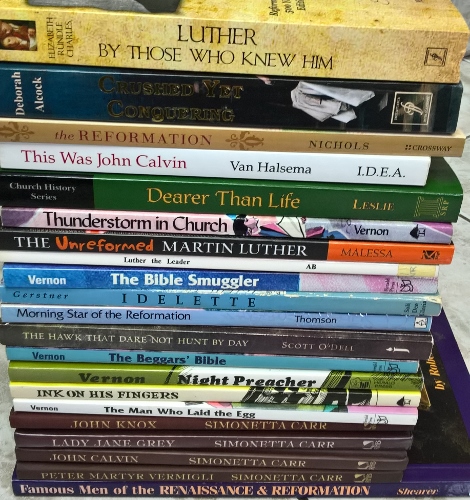 As I paged through piles of books while preparing this article, I was reminded that there is one resource each of the reformers would have placed at the top of a Reformation resource list, the Bible.  All treasured it, all based their lives on it, and some died for it.  Obviously, you cannot truly understand the Reformation without knowing the Bible.  So as you commemorate Reformation Day, I encourage you to read the Bible with your children regularly.  (If this is difficult for you, you may find some guidance in 6 Tips for Bible Reading and Bible Narratives.)
Whatever one's religious convictions, most agree that the Reformation was a pivotal event in Western civilization affecting not only religion but also politics, our view of ourselves, society, and science.  Thus it has a foundational influence on almost every aspect of modern life in the west and also wherever the west has influence.
Five hundred years ago, when Martin Luther enumerated his problems with the church, his 95 Theses, the Reformation began.  As is to be expected, many myths surround a great figure such as Luther and scholarly debate continues about various aspects of Luther's story.  Even the civilization-altering event we celebrate October 31, 2017, that Luther nailed his 95 Theses to the door of the Wittenberg cathedral, has been questioned.  But what no one questions is that this document and the subsequent Reformation fundamentally altered our civilization and our churches, both Catholic and Protestant.
Of course, Luther was a follower of earlier reformers, and many others came after him as well, since it was widely acknowledged that there were problems with the church. There is so much to learn about these times!  At the Curriculum Choice I present an annotated list of our family's favorite resources about Luther and the Protestant Reformation .
—
If you enjoyed this review, you might want to follow me on Google+ where I often mention helpful or interesting ideas, or connect with me on GoodReads where I share what I read.