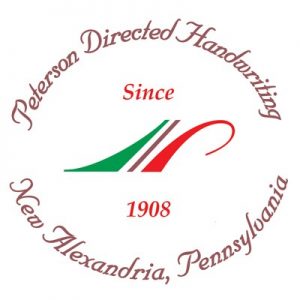 Although keyboarding is invaluable, handwriting is still very important.  Peterson Directed Handwriting is a unique concept in handwriting that promises to be helpful for those who have handwriting issues as well as for a first exposure to printing and writing.   Our family volunteered to review this program to:
introduce a child to cursive for the first time,
help  a lefty gain fluency and speed, and
help a slow writer learn to form the letters effortlessly
Rand Nelson at Peterson Handwriting helped us choose the E-books that would suit our family's needs.  We received three:
ABC's and 123's Cursive ($19.95 US), an introduction to cursive that includes practice exercises, detailed instructions, and chants for each letter, as well as an overview of the method.  Each letter is broken into its strokes and these are presented in color so a child can clearly see how the strokes he's memorized are joined to form letters.
Step 4 Cursive ($19.95 US), an advanced practice sheet E-book, shows how to hold the pencil and paper, with a unique option for lefties.  It also includes instructions, detailed letter descriptions, and letter joining practice.
Grade 3 Word Masters ($10.50 US) reviews the Peterson method and also gives special hints to professionals trying to improve their handwriting.  Then there are lists of words with a counting rhythm for each, so that the writing becomes rhythmic and smooth.  I was surprised to see that while most letters get one count, an 'f' gets two, one for the top loop, and one for the bottom loop.  Details such as that make this book worthwhile for anyone, grade 3 to adult, who needs to improve handwriting fluency or legibility.
The books are not completely self-explanatory, but that's OK.  The website itself has most of the information you need, and Rand Nelson provides wonderful help in an online meeting room.
Now, what's special about Peterson Handwriting?  It does not involve tracing, and is not like the kindergarten sheets where we drew between lines.  Instead, it focuses on large arm movements rather than the usual small pencil and paper movements.  This is because the crucial point in the Peterson method is to reduce the visual cue input (i.e. writing to trace, or to make something look right) and replace it with muscle memory (shaping the letters because your mind has memorized the motions associated with a letter).  Apparently large motions can be remembered by the brain, but adult-size writing can't.  Saying what you're doing is also supposed to help internalize the motions. Thus the Peterson method involves moving your whole arm rather than only your hand, while verbalizing what you're doing.
This whole process increases fluency, speed, and legibility.  Since the letter strokes are stored in the muscle memory, the young writer can concentrate on expressing his ideas without worrying about the mechanics of handwriting.
Our experiences
We began with ABC's and 123's Cursive and have not gotten beyond that.  My children are definitely not reminding me to do it every day, although I can see that it is helping them.
We began by writing with our fingers in the air and on the table, but it was impossible to verify that the children were making the correct motions.  Eventually we just headed outside with a box of sidewalk chalk and practiced on the driveway.  This was more fun, but I found we had to make lines on the sidewalk to use as a baseline, or the younger ones would just make a whole ring of loops or whatever around them—and that made it difficult to get the shapes right. (It did make pretty flower shapes, though!)    When there were too many bugs to work outside with chalk, we had to use pencils and paper.  We'd put a huge stack of scrap paper on the table, and the children made the practice shapes and the letters so large that they were moving their whole arm, not their wrists only.
To our surprise, we found it quite difficult to make the correct shapes.  No wonder writing had been a difficult chore!  Whenever necessary, we'd give the Little Misses one or two huge letters to trace with their finger while chanting the names of the strokes.  After doing that ten times, they found it much easier to make the shapes themselves.
I think the key is to practice for a few minutes once or twice a day, rather than having a marathon session once a week.
Our Opinions
I think this is a helpful product.  It helped me to pinpoint some of the children's handwriting problems and also gave valuable solutions.  I am thankful for what we are learning and think Peterson Handwriting will benefit my children for years to come.
Miss 7 was thrilled by the whole process and would run outside to practice with sidewalk chalk every so often.  On the other hand, those of my children who believe handwriting is a waste of time did not enjoy Peterson Handwriting at all.  I suppose that makes sense.
If you're interested in the method, study the Peterson website, and then arrange a meeting with Rand Nelson. He will discuss your family's needs with you and help you decide what resource would work best for you.  If you get stuck, you can meet with him again.  His customer support is truly incredible.
You might also want to read the opinions of my fellow crew mates at the Homeschool Review Crew blog.
Purchase Information
You can buy ABC's and 123's Cursive ($19.95 US), Step 4 Cursive ($19.95 US), Grade 3 Word Masters ($10.50 US) and many other handwriting products from Peterson Handwriting.
Disclosure Policy:   As a member of the TOS Homeschool Review Crew, I received three E-books from Peterson Handwriting in exchange for our family's honest opinions about them.