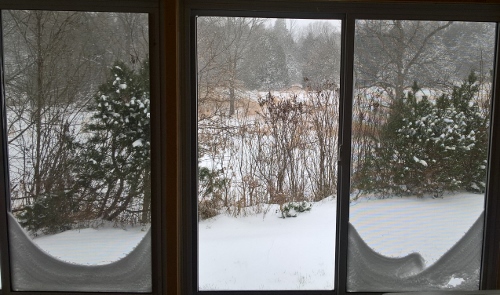 There is so much to be thankful for, isn't there?  We all have adequate food, clothing, shelter, and so much more.  Compared to much of the world's population, both now and throughout history, we are incredibly blessed with 'ordinary' gifts.
But sometimes we are not even aware of these gifts.  Sometimes we actually do not even enjoy them, appreciate them, or give thanks for them!  In fact, if we are honest with ourselves, we are often 'too busy' to notice the hundreds of gifts God gives us each day, let alone to praise him for them.  This ungratefulness is something we must repent of.
And then, let's go even further.  We believers are to be thankful even in terrible times.  I am always astonished and humbled by this song from Habakkuk 3:17, 18:
Though the fig tree should not blossom, nor fruit be on the vines,
the produce of the olive fail and the fields yield no food,
the flock be cut off from the fold and there be no herd in the stalls,
yet I will rejoice in the Lord; I will take joy in the God of my salvation.
How is this possible?  I finally understood one Sunday morning when our pastor preached on Psalm 63:3.  King David, hiding in the desert from his son Absalom, said,
Because your love is better than life, my lips will glorify you.
It was God's love that filled David with thanksgiving even in terrible circumstances.
And here is the good news: God loves us, too.  He loves us so much that he sent his son to die for us!  For us also, God's love is better than life itself.  But we, along with other believers throughout  history, often do not realize this adequately.  In fact Paul prayed for the Ephesians that they would learn to know the greatness of this love, and we need to learn it, too.  (Ephesians 3:17-19)
So, wherever you are in your journey, and whatever is happening in your life, I pray two things for you this Thanksgiving:
the ability to notice and be grateful for God's everyday gifts
a heartfelt understanding of the incredible love of our God and Savior.
May God bless your Thanksgiving!
—
Note:  If you are having a difficult time noticing the everyday goodness that fills your life, you might want to read Ann Voskamp's One Thousand Gifts.  Although this book is not for everyone (see my review), it has helped many learn to be grateful to God for the simple things, and eventually to accept even the hard things with trust.
First published in The Learning at Home, October 2016, for Canadian Thanksgiving.  Since then I have continued to pray this prayer occasionally for all those whose lives I am privileged to touch.