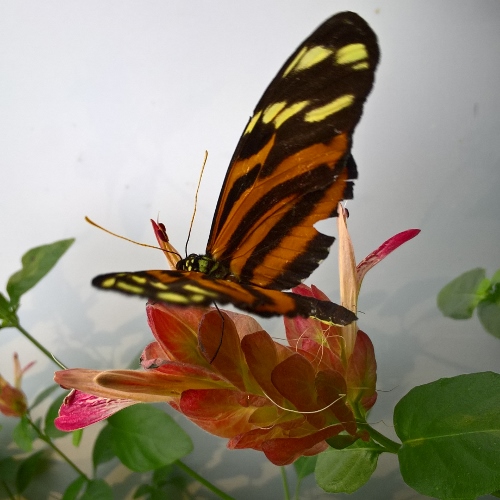 We when walked into the butterfly exhibition at the Canadian Museum of Nature we were immediately surrounded by enormous blue butterflies.  They and others fluttered busily around and between us, fragile miracles heedless of danger.   Brilliantly colored, they were everywhere, feeding on fruit, resting on greenery or windowsills, terrifying babies with their enormous size and incessant movement.
We even got to see the individual quirks of a few of the butterflies.  One loved Miss 18's shirt and sat on it for half the time we were there.  One foolishly kept getting tangled in the fur trim on Miss 16's parka. The big blue ones were always flying together and interacting with each other,  and when one of them sat tiredly on the ground, the other ones flew up to it numerous times and gently bumped it, seemingly asking it to join them in their joyous dance.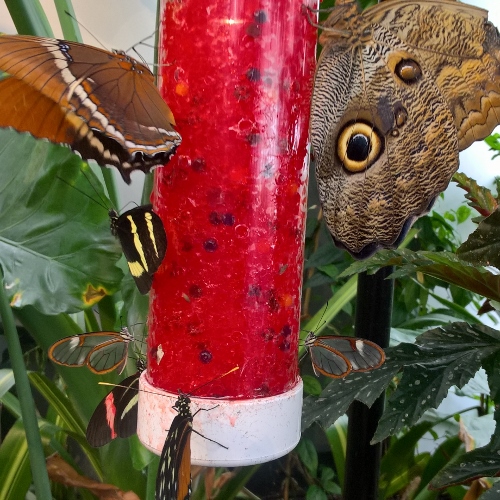 We also saw new butterflies leaving their chrysalises.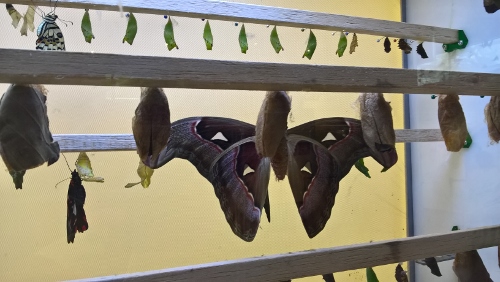 An adjustable microscope showed us the details of the different butterfly wings.  These are of the transparent butterflies, visible on the photo with the red feeder; it seems the little black 'hairs' go in one direction on one wing and in the other direction on the other.  (In much of this picture the wings were folded on top of each other.)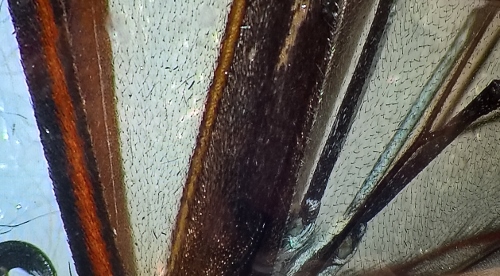 In the past butterflies were called 'summer birds' and two decades ago one of my children called them 'flying flowers'.  Those names together call to mind Matthew 6: 25-34, where Jesus reminds his disciples that the God who cares for the birds and who dresses the flowers certainly will provide them with food and clothing.  He concludes, "But seek first the kingdom of God and his righteousness, and all these things will be added to you."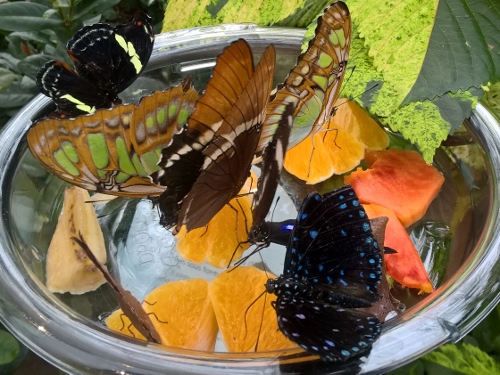 Seeing the incredible butterflies fluttering all around, we not only delight in God's amazing imagination, but we are also comforted.  The God who created and cares for these delicate creatures also loves us and cares for us.  And that is enough to expand our hearts with gratitude.
Although the rest of this wonderful museum is permeated with evolutionary concepts, the butterflies are left to speak mostly for themselves.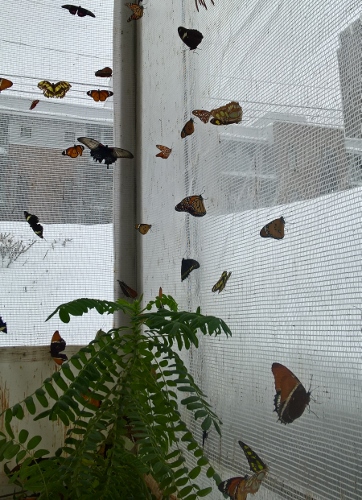 If you live in the Ottawa area, I highly recommend the Butterflies in Flight exhibition which is open until April 22, 2019.  If you can attend twice and also want to see the live Survival of the Slowest exhibition, featuring a sloth and other interesting creatures, it makes financial sense to buy a year's membership for your family.
—
As with all my nature photos, these are copyrighted.  Please ask permission if you wish to use them.
—
If you enjoyed this nature devotional, you might want to follow me on Google+, where I often mention helpful or interesting ideas, friend me on Facebook where I occasionally show up, or connect with me on GoodReads where I eventually share what I read. 
This may be linked to Inspire Me Monday, Raising Homemakers, Friendship Friday, Make My Saturday Sweet.