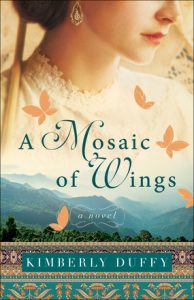 Nora Shipley, entomology student at Cornell in 1885, is tied at the head of her class with Owen Epp.  Trained by her late father to understand insects, especially butterflies, she excels in both accomplishment and drive.  In fact, once she graduates she aims to rescue the scientific journal her father started because her stepfather Lucius, obviously inferior to her father, is destroying it.
But to be qualified for this great task, she needs to go to graduate school, and to do that she needs a scholarship.  To get the scholarship, she really should accept the offer of a trip to India to study butterflies but her ill mother cannot do without her. Yet without the experience and prestige of the trip, she will not win the scholarship to grad school; Owen, who hardly cares about entomology, will.
Obviously, Nora does get to India; how she gets there and what she does there make a fast-paced, emotion-filled story that is filled with butterflies and immersed in Indian culture.
I was often frustrated by Nora.  She may be an excellent student but she has a lot of growing up to do.  Added to that, she, like many people hampered by trauma and guilt, often reacts intensely. Her responses to difficult situations are frequently a source of grief for herself as well as others.  In this book she does learn, but as painfully slowly as we all do in real life.
In our homeschool we have used Anna Comstock's Handbook of Nature Study, and Anna Comstock of Cornell is one of the characters in this book!  There's also an oblique reference to someone similar to Amy Carmichael, although the dates don't quite work.  And, as you can imagine, there is talk of bugs, butterflies, and suffragettes.
A Mosiac of Wings is a busy novel of academic life in the late 1800's as well as a tender love story and an exploration of family relationships. Anyone interested in butterflies, the history of women's education, nature study, India, or the effects of trauma and guilt will find this book especially gripping.
Related resources:
Handbook of Nature Study by Anna Comstock, a treasure trove for any homeschooling family that wishes to do nature study.  The book is available free online but can also be purchased in paperback.
Review:  The Girl Who Drew Butterflies by Joyce Sidman , a lavishly illustrated biography of Maria Merian, one of the first scientific illustrators of butterflies.
The Body Keeps The Score by Bessel Van Der Kolk (link to my mini-review ), a study of trauma and its effects.
Disclosure: I received a review copy from Graf Martin and Bethany House and, as usual, am not compensated for this review.