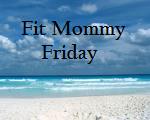 Denise over at Got Chai has started an exciting meme, Fit Mommy Friday.   Now, there's not much I want more than being fit, but there's a problem.  My doctor.  He says I may be as active as I wish as long as I do NOT
do as much as I think I can on a good day

do anything at all on a bad day
If I don't listen to him, he says I'll be spending hours, days, or even weeks in bed.  Desperately not believing him, I did these things anyhow.   (Shhhh!  Just a tiny, wee bit!)  He's right.  Sigh.
You see, in the past I had all the symptoms of chronic fatigue syndrome, otherwise known as myalgic encephalomyelitis.  Now that my wonderful doctor has discovered I have celiac disease, most of the CFS/ME symptoms have disappeared, but I'm still stuck with fatigue and muscle issues. 
I am exceedingly grateful for how much I have improved.  I can do my grocery shopping most weeks, do all the week's ironing at once, fold laundry without needing to rest afterwards, sweep a little bit, and even scrub my walls for a few minutes a day.  Usually I can make supper without help, although someone else has to mash the potatoes.  In fact, I'm almost up to the level of a sedentary North American!  I can stretch,  move, go for short walks, and live a fairly normal life.  
So when I told Denise that I loved her new meme but wouldn't be participating, she said,
You can still participate even if you can't necessarily "workout". You could join at the Level One with your stretching and daily movements. (If you want to, that is. No pressure.   The important thing is to do the best you can–whatever that may mean for you. Don't push it, don't feel bad, and feel no shame!   I think you're pretty inspirational and would be to several others out there, too. ((Hugs))
How's that for a wonderful welcome?  And if I can encourage another sick mommy to be as fit as her body allows, that would be great.
Here goes, then!  Level One involves committing to one mild form of exercise per day and one nutritional goal.  So here's my commitment.  I will
follow my doctor's suggestions and not try to exercise like a healthy person

go for a wee walk most days

stretch 3 or 4 times a week, one repetition only, using the Curves stretching guide my mom forgot at our place, and my old Callanetics book

move my arms around more, including up and over my head a few times if it's a good day

concentrate on eating lots of vegetables, because they make me feel more energetic
 This week I met all of my goals, except the stretching. 
If you're interested in becoming a fit mommy, be sure to join the rest of us at Fit Mommy Friday!