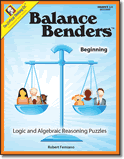 The Beginning Level of Balance Benders: Logic and Algebraic Reasoning Puzzles is the first in a series of four logic books meant to be 'more fun and addictive than Sudoku puzzles.'  However, the goal is not only fun, for the website claims these slim booklets also help students of all ages with algebra and with some of the big tests. Think Graduate Record Examination and Law School Admissions Test.  Hmmm.
We used Balance Benders in a much more mundane way.  No law school for my Little Misses!  Instead, we just did a few pages of puzzles every once in a while.  The older children do Building Thinking Skills, also from The Critical Thinking Co., for logic and with this book the little ones have a chance be like the big kids.   
So what is Balance Benders Beginning?  It's a 46 page booklet full of neat logic puzzles for Grades 2-6.  You can see a sample page here.  (Note that this sample is about 1/3 of the way into the book, so it looks more intimidating than it is if you've done the previous pages.) 
Each puzzle page has a picture of one or more balance scales with weights.  This tells you how the different weights compare.  Below this are several pictures of scales with combinations of these weights on them, and the child has to decide which pictures are always true.  This is quite simple at first, but the problems get more difficult toward the end of the book where algebraic concepts are, indeed, introduced. Fortunately, the answer key in the back of the book has explanations that can be used as hints for a child who is stuck. 
The teaching suggestions at the beginning of the book encourage reviewing the 10 Balance Tips (algebra rules) before beginning the book.  We did not do that.  With the visual balance scales these rules are intuitive, and my children had the joy of discovering them all by themselves.  
When there were two scales defining relationships between the weights, Miss 7 got confused until we pretended that one scale was measuring ants and the other one elephants.   Then she was able to understand the questions and move on. 
Our Opinions
Miss 7 had a few 'aha moments,' as she studied the shapes on the balance scale and weighed them in her mind.   It was exciting to watch her as she realized that she could do this.
Miss 9 learned to be systematic and logical.  She also learned that she can do more than she thinks she can.
My older children told me it was just logic and they are used to that from the Building Thinking Skills books we use.
Although Balance Benders Beginning does not meet The Critical Thinking Co.'s inflated claims, it is still a very good and interesting way to explore the ideas of equality and inequality that are fundamental in mathematics.  Concepts build on each other in a simple way.  I love the fact that the presentation is so visual.  The children  interact with the ideas presented by the pictures rather than with long, wordy instructions. This booklet is an asset to our homeschool, and I think many other families would also enjoy it.
To Purchase
Balance Benders Beginning and other booklets in the series are available from The Critical Thinking Co. for $9.99 US.  Note that Balance Benders can be reproduced within a family, so you will not need to buy a copy for each child.  
Disclosure Policy:   As a member of the TOS Homeschool Crew, I received a free copy of Balance Benders Beginning in exchange for our family's honest opinions.