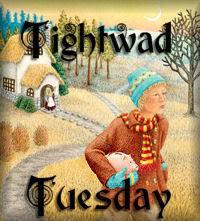 helping each other be good stewards of all our resources: money, possessions, time, energy, and health
We used to shop at the big name thrift shops.  Because they are getting quite expensive, we usually went on half price day, but even that is now almost as expensive as a good sale at a regular store.
Every so often, though, I'd read about Tina's amazing thrift shop finds.  "How does she do it?" I'd wonder. 
Now we, too, can do it.  As I mentioned in last week's Tightwad Tuesday post, we bought a judo outfit for 35 cents.  I also got many other items of clothing for 35 cents each.  In fact, we got a huge bag full of clothing for $15! 
When we drove by that shop on Saturday, a sign announced that the price of such a huge bag full of clothing had dropped to $10, and suddenly I realized something:   This is a small independent thrift shop.  It can set its own prices and make its own rules.  It isn't part of one of the big chains.  And that makes all the difference. 
From now on I'll be looking for independent thrift shops and independent second hand book dealers.  Besides the potential savings, I'm also much happier supporting little, local enterprises instead of huge ones. 
Join in the fun and share your Tightwad Tuesday tips, ideas, stories, and encouragement.  Just click on the Linky Tools message below to enter your post.  Please remember to link back to Tightwad Tuesday so that others can join in as well.
Powered by Linky Tools
Click here to enter your link and view the entire list of entered links…
*****
This post is linked to Tuesday's Tip Jar,  Works for Me Wednesday, Coupon Teacher's Thrifty Thursday, and Frugal Friday.