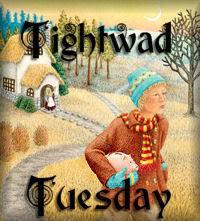 helping each other be good stewards of all our resources: money, possessions, time, energy, and health
When I was a brand new PhD with a toddler and a very colicky baby, I taught my first—and last—university course.  It was a harrowing time, and I discovered the costs of going out to work when you have children:  much of my tiny salary went to babysitting and transportation (mine and the babysitter's), the children were sad, and I was exhausted.  On top of that, the stress of not doing well in any of my roles was exhausting:  I was a harried mother, a tired wife, and a lousy prof, all because I was trying to do too much.
For my 31st birthday, I threw prudence to the winds and took a few moments for myself: I slipped into the university bookstore.  What I walked out with transformed our lives:  The Tightwad Gazette: Promoting Thrift as a Viable Alternative Lifestyle  by Amy Dacyczyn.  With her wise, thoughtful essays and many reader-inspired tips, Amy held my hand as we transitioned to living on one (student) income.
Since then, Amy has published two more volumes of the Tightwad Gazette.  Needless to say, we own all three, and they have been read dozens of times, by me and by my children.
If you are interested in a more thrifty lifestyle, I cannot recommend a better source of inspiration and encouragement than Amy's three volumes, now combined and published as The Complete Tightwad Gazette.   If possible, buy it.  Having it in your home will put Amy's hints and cheerfulness at your fingertips whenever you need them. This investment will pay for itself many times over.
Disclosure:  I have owned these books for years and receive no compensation for this review.
Please join in and share your Tightwad Tuesday tips, ideas, stories, and encouragement.  Just click on the Linky Tools message below to enter your post. Then enjoy learning from the wonderful ideas of others.  Please remember to link back to Tightwad Tuesday so that others can join in as well.
Powered by Linky Tools
Click here to enter your link and view the entire list of entered links…
For more tips, hints, and ideas, see Tuesday's Tips,  Works for Me Wednesday,  Thrifty Thursday, and Frugal Friday.