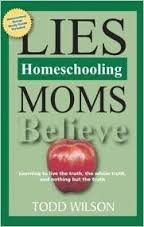 Lies Homeschooling Moms Believe: Learning to Live the Truth, the Whole Truth, and Nothing but the Truth by Todd Wilson is a lighthearted but passionate look at a serious subject.   This book is dedicated
"to the homeschooling mom who often feels overwhelmed by the task of homeschooling and struggles with feelings of failure."
I suppose that includes all of us at one time or another.  The author's goal is to show us that most of those feelings are based on lies.  In other words, we don't have to feel that way!
This slim book begins with an insightful look at what lies are, where they come from, and what they do to us. Then Todd tackles the nine lies that he is convinced all homeschooling moms believe.  These lies are based on comparisons with everyone else's kids, homes, meals, marriages, homeschools, and more.  He is probably right, too: most of us are burdened by them to some extent.
We can fight these lies by being open and encouraging each other, but we also need to remember the truth.  Lies Homeschooling Moms Believe reminds us of some comforting, common-sense truths about ourselves, our children, and our homeschools.
Thought provoking questions are sprinkled throughout the book, making it a great choice for homeschool study groups.
Unfortunately, Todd does not realize that some moms are not burdened by these lies since they avoid both comparisons and man-made goals.  They have already taken themselves out of the game.  In his eagerness to help the rest of us he does not take these godly women seriously, although they can be wonderful blessings and role models.
Despite this one quibble, I love Lies Homeschooling Moms Believe.  It combines Biblical wisdom and pastoral comfort with a touch of zany humor.   If you are a homeschooling mom, do add it to your Christmas wish list.  In the bleak days of winter, you will be glad to turn to it for encouragement.
Todd Wilson's book, Lies Homeschooling Moms Believe, is available from Familyman Ministries for $8.99 US, as well as from Amazon and CBD.
Disclosure:  I received a copy of Lies Homeschooling Moms Believe from Familyman Ministries in order to give you my honest opinion of it.