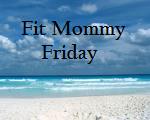 encouraging each other to care well for the bodies God has given us
My personal goal is to regain strength after a debilitating illness so that I can live a healthy, active life with my family.
Your goal may be to lose weight, look better, feel better, or run a marathon.  Whatever it is, please feel free to join Fit Mommy any time, no matter what your current level of fitness is.  You can check in using the comments at the bottom of this post.
There's something dynamic about setting goals.  Last week after determining and posting my fitness goals, I felt so inspired that I was very active.  Too active.  And I've spent this week paying for it.
Since I'm hosting Fit Mommy, I really wanted to get moving soon, and I did.  But I wasn't ready, so I had to take even more time off.   Finally I gave in and took the time to think instead….
And I noticed that many moms in their 30's and 40's have great fitness goals and great motivation.  We just forget that our bodies are what they have become, and we try to do more than we can.  Then we injure ourselves, and, determined to keep on going anyhow, we don't allow enough time for healing.
I think the problem is that we forget to listen to our bodies but set endurance and intensity goals as though we were in our teens.  It doesn't work that way, though, and fitness encouragement has two sides.
To those who are still young and healthy we say:  treasure this good gift and be thankful for it.
To those who are no longer fit and healthy we say: let's just keep moving, listening to our bodies rather than driving ourselves to meet numerical goals.  Of course, we aim high…but we should be wise and slow down if necessary.
Remember The Hare and the Tortoise?  Slow and steady wins the race.  It always does.
This week I was the hare, resting after the first dash.  Ha!  But I'm planning to live next week like a tortoise.  Step by step.  Here's how I did this week.
Record my fitness accomplishments each day…Yes.
Do 6 repetitions of my eye exercises 5 days a week …I did them 4 times.
Go for a daily walk and average 6100 steps a day … No.  I went for one walk and took my kids along just in case I didn't make it.  (What's that about listening to your body?  Hmmm?)  After last week's enthusiasm, my daily steps  were only 1900, 2700, 5800, 4700, 3500, and 3200 averaging to almost 3600.
Do 6 repetitions of my physio exercises 5 days a week … I did them two and a half times.
Do 5 repetitions of my organ keyboard and pedal exercises, 5 days a week… I did them three times.
T-Tapp: Learn 2-3 pages of Fit and Fabulous each week, and practice what I know daily.… I continued learning, but need to pace myself and do only a few repetitions even if the DVD suggests many.
Avoid sugar five days a week … No.  We ate healthy cornbread on Valentine's Day, but covered it with cream cheese frosting.  The children were thrilled, and it did taste remarkably good, but it drained me of energy. I will focus on meeting this goal.
Eat lots of vegetables, including fresh ones, and yoghurt … Yes.  We enjoyed a lot of fruit and vegetables, as well as some yoghurt.  The first batch of sprouted beans is ready to eat today, the only really fresh food we've had since fall.   I'll be thinking more about healthy eating as well, because I suspect that's where I will be able to regain my energy most quickly.
Relax daily…Yes.  We went to bed very early and gave ourselves time to rest.
Have fun with the kids, including active fun… I was too tired to have much active fun.  However, we really enjoyed our Valentine's Day, decorating and eating special foods.  Other than that, we're back into our reading aloud routine.
How about you? Did you exercise, eat well, and relax happily this week? Let's encourage each other to care well for the bodies God has given us. Please link up your health and fitness post in the comments below, and don`t forget to link back here from your post. Then enjoy visiting and encouraging other Fit Mommies just like you.
Note:  Fit Mommy Friday is the Health and Fitness Check-In column of The Christian Home Carnival.