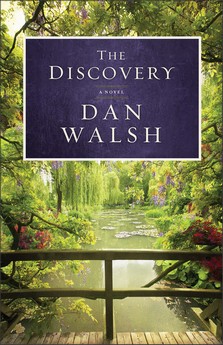 Michael Warner, an aspiring writer, inherited his grandfather's Charlestown estate…and that included the study where his famous grandfather had written his blockbuster novels.  Not only that, but Michael, his sister Marilyn, and the rest of his family also inherited millions.  Marilyn, for one, was not satisfied.  She was upset that the will had contained no clues to her grandfather's buried past.
As Michael settled into his new home, his grandfather's agent called eagerly with a book proposal.  His wife Jenn had to go back to quit her now-unnecessary job and empty their little apartment.  Michael was left alone in his grandfather's study with his dreams, Marilyn's questions, and a whole new life stretching out before him.
When he discovered the manuscript of an unpublished novel his grandfather had left for him, Michael immersed himself in the exciting war tale of spies, sabotage, and love.  He forgot time, his wife, and the agent….  
I loved this book.  Its unique structure, its many layers, its wonderful characters, its wisdom, and the mysterious manuscript all combined to make it the best novel I've read in a long, long time.  I highly recommend it. 
An excerpt is available here.  You can also enjoy an interview with the author  and read a few other reviews .
This is my 23rd book in the in the 2012 52 Books in 52 Weeks Challenge, and is also linked to Saturday Reviews.
Disclosure: This book has been provided courtesy of Baker Publishing Group and Graf-Martin Communications, Inc. and is available at your favorite bookseller from Revell, a division of Baker Publishing Group.