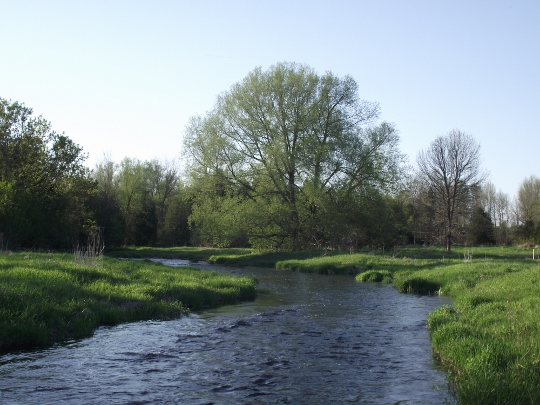 Last year we started a new tradition, floating down the river.  We've been looking forward to doing it again this year, although rather nervously.  After all, it is not a completely safe activity, but then, neither are skiing, biking, cooking, or driving.  But if you work as hard as my kids do, you need to relax creatively as well.
So last week, on the first really warm afternoon, we found our lifejackets, secured our glasses on strings, selected dependable water-proof footwear, and set out up the river for some homeschool Phys Ed.   The rocks were very slippery under the swift current, so we walked mostly beside the river, scratching our legs on wild raspberries and brambles, and dodging nettles.  The thick swamp grass is still short and soft enough to tramp through with bare legs.
Then we got to our starting place.  The rocks were slippery, the current was strong, and the water was COLD.  I wanted to go home and snuggle under some warm blankets, but I had to shepherd my little flock home first.  There was no option; I would simply have to get wet. Long after the children were splashing and drifting happily away, I was still easing my body into the frigid current, relying on my life jacket in case the cold made me dizzy.  It didn't for long, and the life jacket was relatively warm.  Soon I rejoined the children and we were all peacefully floating down to the first major rapids.
Full of laughter, we splashed and floated, trying to read the waves ahead of us to discover hidden rocks.  We rejoiced in warmer stretches of water, struggled through rapids and rocky mazes, and mostly just lay back and floated.  The dogs trotted along excitedly and even tried to lick our faces as we drifted along.  For a while the Little Misses and I held hands.  When we discovered that we couldn't manoeuver quickly enough to avoid rocks without using our hands, we soon let go.  Being slammed into submerged rocks hurts.
Last year we did this in June when the water must have been warmer.  Now we were all chattering with cold by the time we got home, and no one wanted to go back for another trip.  All we could think of was warmth, cozy baths, a hot black trampoline, beach towels on sunny grass, and hot chocolate.  It took me hours to warm up, but it was blissful.
Somehow that trip down the river slipped us into summer mode.  Yes, there is still bookwork to do, but it no longer seems as important.  Nature study and Phys Ed combine so effortlessly when it's warm outside that we'd much rather focus on them.
Will we go floating down the river again this year?  On the next hot, hot day, we will probably talk about it, remembering the bliss of slipping into the current rather than fighting it…and we just may try it again, if the water level stays high.
After all, no one got hurt, other than the expected few bruises.  Not even one croc or sandal was pulled off by the current and carried away!  And we all loved it.
—Thanks to Mama Squirrel for motivating me to go out and take pictures!  She's hosting this week's Carnival of Homeschooling at Dewey's Treehouse.  The first photo is by Mr. 17 who takes wonderful pictures.