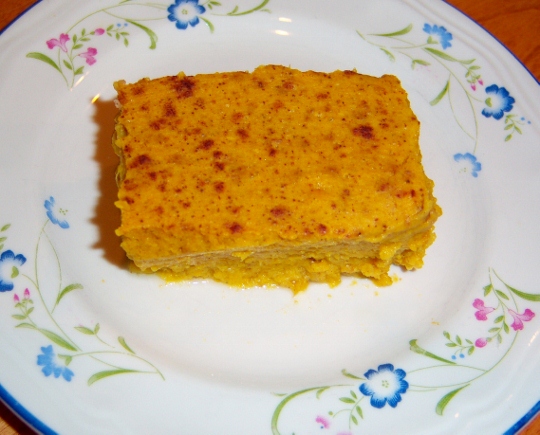 I love to serve pumpkin slice for breakfast or lunch.  It's delicious, super-healthy, nourishing, and easy to make.  If you grow your own pumpkins, it's also very inexpensive.  And it's what I need to be making these days to empty our freezer.
2-3 c cooked, mashed pumpkin
2 eggs
1 T honey or sugar (or more if you wish)
1 T cornstarch (or more)
1 t cinnamon
½ t ginger
¼ t cloves
1 c milk
2 T oil
½-1 t vanilla (use the smaller amount if you add more sugar)
Blend all ingredients in a blender.  (You could use a mixer if your pumpkin is already perfectly mashed, but our homegrown, home-mashed pumpkin never is.)
Pour into a greased casserole, pan, or pie dish.
Bake at 400 for 45-60 minutes (or microwave at 50% for 20-30 minutes) until a knife inserted halfway between the middle and the side comes out clean.
Enjoy either hot or cold as the main part of a simple meal.  Delicious!
If you want dessert, add up to 1/3 c honey or sugar and 2T molasses, and serve with whipping cream or ice cream.  If you bake it in a pie crust you can even call it pie, or you can omit the crust and call it a crustless pie.
We use homegrown pumpkin and have discovered that we can vary the amount of pumpkin in the recipe by a cup to accommodate the size of the pumpkin.  We oven-bake or microwave our pumpkins to cook them, depending on the size.  Right now I'm trying to clear my freezer, so I'm using frozen oven-baked pumpkin. 
One delicious, sugar-free option is to replace the sugar with a mashed, ripe banana. 
–For encouragement to eat up your food stores, join Eating from the Freezer and Pantry.  For more kitchen inspiration, see Workin' It Mondays, Homesteader Blog Carnival, No Ordinary Blog Hop, Sustainable Ways, Encourage One Another Wednesday, Women Living Well Wednesdays, Works For Me Wednesday , Raising Homemakers, Simple Lives, Friday Farm Girls, and Frugal Friday.