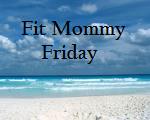 encouraging each other to care well for the bodies God has given us
My personal goal is to regain strength after a debilitating illness so that I can live a healthy, active life with my family.
Whatever your fitness goal, please feel free to join Fit Mommy any time.
This week I was so busy preserving food, trying to keep up with the schoolwork, and collapsing in exhaustion that there was neither energy nor willpower left for exercise.  It was, however, the busiest week of the year, I think, and things will improve from now on. 
Here's how my goals went this week:
Record my fitness accomplishments each day… Five days.
Do 10 repetitions of my eye exercises 5 days a week and relax my eyes whenever I think of it …No.  I remembered only 3 times.
Go for a daily walk and average 10,000 steps a day … I spent several full days on my feet.  Although that is exhausting, it is not exercise.  I did manage a few brief walks, and here are my pedometer readings: 11,500, 6400, 7500, 7400, 5200, for an average of 7600 steps a day.
Have good posture and do core strengthening exercises while walking; sit straight at the computer… No.
Work on the Callanetics maintenance program… Still too busy.
Be usefully active for 1 to 2 hours a day, 6 days a week, without overdoing it … Preserving, puttering about the house, hanging laundry.  And I overdid it several times (after the plums and the kale), ending up lying down with absolutely no strength left at all.  That may have been related to low blood sugar as well as excess activity, though.
Avoid sugar five days a week … Yes, I went without sweets for 6 days.  On Wednesday, however, I had three small handfuls of chocolate chips.
Eat lots of vegetables, including fresh ones, and yoghurt … Yes to the veggies, no to the yoghurt.  
Prepare and eat one fermented or soaked food a week… A few breakfasts of soaked buckwheat groats.  That's quickly becoming our warm breakfast of choice.
Relax daily…Even if I did not have a chance to nap, I rested, sometimes by choice, sometimes out of pure necessity.
Cut something out of my schedule… Nope.
Have fun with the kids, including active fun… Lots of work together—making plum jam and plum sauce, dropping chickens off at the butcher's, butchering two injured ones ourselves, freezing kale, cooking meals, doing schoolwork.  Even though it wasn't entertainment, there's togetherness in doing work together as well, even if the work is not appealing. This evening, however, we had a chance to read aloud again, and it was blissful.  
Please link up your health and fitness post in the comments below. You can use your own format, your own goals, and post on whatever day works for you. Just don't forget to link back here from your post.
Note: Fit Mommy Friday is the Health and Fitness Check-In column of The Christian Home Carnival.