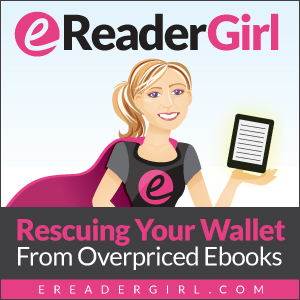 Do you love ebooks, especially wholesome ones?  There's a whole new blog devoted to the latest free and discounted ebooks.  This new site, eReader Girl: Rescuing Your Wallet from Overpriced Ebooks lists several books each day, with mini-reviews.   Most of them, so far, are nonfiction, Christian fiction, and children's books from Amazon.  The quality varies, but in the last day I noticed a Lynn Austin novel as well as the new, expanded edition of the best-selling Winners Never Cheat.
So why not go directly to the Amazon freebie site?  If you ever do, you'll notice it's full of trash.  eReader Girl avoids the trash.  Remember Crystal, author of 21 Days to a Self-Disciplined Life and The Money-Saving Mom's Budget (see my reviews here and here)?  She's the big name behind this new site, and that's why I can recommend it.  Crystal, a dedicated Christian, will not promote evil books.  In fact, I can allow my teen daughter onto this site.  
In that sense, eReader Girl is a whole a better than some of the resources listed in my Millions of Free Books post.  Even so, I haven't noticed many classics on eReader Girl, so for free homeschooling books you'll need to turn to some of the resources I mentioned.
If you don't have an ebook reader, that's no problem.  See eReader Girl's FAQ to find out how you can make ebooks work for you on your computer like I do.
Happy reading!  We're enjoying our Annual Reading Week , so we're reading too–mostly library books right now.
This post is linked to Better Mom Monday, Encourage One Another Wednesday, Women Living Well Wednesdays, Works For Me Wednesday , Wisdom Wednesdays, Raising Homemakers, Cozy Book Hop, and Frugal Friday.