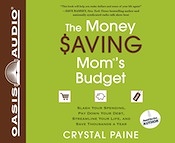 One of the first homeschooling talks I listened to pointed out an interesting fact:  most homeschooling moms can manage the actual homeschooling quite well.  What leads to homeschool stress and burn out is not the actual homeschooling itself but all the other things moms deal with, including financial pressure.
Thus The Money $aving Mom's Budget by Crystal Paine addresses an issue that can be very important to the average homeschooling family, and Crystal's approach is well-suited to homeschoolers.
Unlike most personal finance or thrift books, The Money $aving Mom's Budget includes the fundamentals.  It begins with a detailed chapter on goal-setting.  This will be useful in all aspects of life, and is a valuable skill to teach our teens.   The next chapter, on how to streamline our lives and cut the clutter, points out that we will not have the time or energy to save money if our lives are full of chaos and stress.  Once we've mastered our time use and reduced our clutter, we'll be prepared to set a budget, live on less, take the cash-only challenge, use coupons, save without coupons, and splurge strategically.  And, most importantly, Crystal reminds us to embrace contentment while working towards our financial goals.
Crystal's approach is very organized with many how-to lists and checklists.  Unlike many books, this one is not padded with fluff; it's all helpful information.  Even the stories from her blog readers highlight practical considerations and applications of her principles.
I've read many money-saving books and even reviewed some.  Two things set this one apart:
Crystal discusses saving money holistically while sharing practical information in a very organized and detailed way.
Crystal's family, Christians who learned to save money through dire necessity, now live simply so that they can live with open arms, giving to others.  Proceeds from this book go to Compassion.
We have lived on very little for most of our marriage, so many of Crystal's practical tips have long been part of our lives—except couponing, since that's not a big thing in Canada or Europe.  What I personally like about this book (besides the reminders to set goals, manage time, reduce clutter, and embrace contentment), are its suggestions for saving on the luxuries we're beginning to enjoy:  eating out, vacations, and entertainment.  These tips will eventually save us huge amounts of money and allow us to do more of these fun—and often educational—things.
The Money $aving Mom's Budget is an information-packed book, full of checklists, tips, and links. I enjoyed the audiobook but needed to take a lot of notes not to miss an important detail or link. While many of the checklists are available in a PDF at the end of the book, links to the many sites Crystal mentions are not on this PDF.  A real book would be more useful in the long run, since it would be easier to refer to, but of course audio books are great for inspiration while you're doing something else.   And it's fun to hear Crystal's pleasant voice, ringing with conviction and enthusiasm.
If you are new to saving money, you need The Money $aving Mom's Budget.  If you're an experienced budget stretcher, you may already know many of Crystal's tips, but you'll probably find that the book will pay for itself anyhow. The first two chapters and the last one would be especially encouraging for all homeschooling moms who are feeling stressed out.
The Money $aving Mom's Budget would make a great wedding gift for a couple on a budget, a great investment for any mom needing to save money, and a helpful resource for most homeschooling moms.
To see if this book would work for you, check out chapter 1 (setting goals) or an overview of the entire book.  Find more reviews in the comments at the LitFuse site.
—
This is my 17th book in the 52 Books in 52 Weeks Challenge and is also linked to Saturday Review of Books.
Disclosure: I received a free download of The Money $aving Mom's Budget audio book from Litfuse in order to give you my honest opinion.
Shared at No Ordinary Blog Hop, Encourage One Another Wednesday, Women Living Well Wednesdays, Works For Me Wednesday , Simple Lives Thursday,  Raising Homemakers, and Frugal Friday.