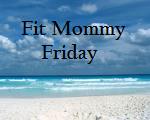 encouraging each other to care well for the bodies God has given us
by being active, eating wisely, and relaxing adequately
Well, piggy-backing those physio exercises onto an existing habit seems to be working, and I did them a full 5 times!  But, between that and a few tough days, it's been hard to keep up with my other Fit Mommy goals.  I forgot to record my fitness accomplishments and most days I really struggled to get even the basic number of steps.
It's just so difficult to focus on too many goals at once!  Combining my physio exercises with my nap, Bible time, and eye exercises seems to reduce the number of decisions I need to make and makes them all easier to remember.  Becoming fit is about self-management as much as about moving, eating, and relaxing.
That's been a worthwhile thing to learn.
Here's how my goals went this week:
Record my fitness accomplishments each day… No.
Go for a daily walk and average 10,000 steps a day … We went for several nature walks but skipped them when I was too tired and when the ground was covered with ice. Here are the steps I recorded this week: 6100, 7100, 8700, and 12,000 for an average of 8500. The two days I missed recording were very low, less than 6000 steps as I recall.  Hopefully next week I'll be able to average the full 10,000 steps a day, but it would probably be wiser just to aim for 9000.
Be usefully active and do formal exercises 6 days a week … I did them 5 days a week and am very pleased.
Do 10 repetitions of my eye exercises 5 days a week and relax my eyes whenever I think of it …Yes.
Avoid sugar five days a week … No.  We ate Sinter Klaas goodies three days in a row…and now that we have a deep fryer we've enjoyed a lot of French fries.  Yesterday our eating schedule was non-stop, like that of hobbits, and it was mostly fries.
Eat lots of vegetables, including fresh ones, and yoghurt as well as one fermented or soaked food a week … Yes to all three goals.  Coleslaw is delicious with orange chunks and a tiny bit of purple onion.
Relax daily…Yes—a daily nap in bed, with exercises and a walk after and Bible reading before.
Have fun with the kids, including active fun… We took nature walks, read books, ate good food, and laughed a lot.
How was your week?
Please link up your health and fitness post in the comments below. Enjoy visiting and encouraging other fit mommies in this often-unhealthy holiday season. Please don't forget to link back here from your post.
Note: Fit Mommy Friday is the Health and Fitness Check-In column of The Christian Home Carnival and is also linked to Encourage One Another Wednesday.