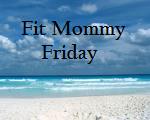 encouraging each other to care well for the bodies God has given us
by being active, eating wisely, and relaxing adequately
Well, this week's Fit Mommy post will be a bit radical.
I've done OK with most of my fitness goals this week (except going outside), but not with the goal of relaxing.
It's been busy.  My eyes hurt.  I'm weary.  I really need to relax. So, just this one week, I will leave my check-in at that.
How was your week?
Please link to your fitness post in the comments below. Then go visiting and be encouraged by the experiences of other Fit Mommies. If you write a blog post, please remember to link back here from your post so others can join in.
Note: Fit Mommy Friday is the Health and Fitness Check-In column of The Christian Home Carnival.