When we were in the midst of icy winter and up to our ears in homeschooling, I was offered Seaside Harmony and Sunflower Summer to review.  The beautiful covers made these books irresistible, and the stories truly reflect the covers—beautiful, welcoming, and full of God's goodness.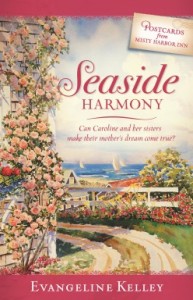 Seaside Harmony:  What a delightful novel!  Three sisters, middle-aged but full of fun, personality, and energy, meet half a year after their mother's funeral.  The beaches, antique shops, and personalities of Nantucket enchant them as they did half a century ago, but now they are also drawn by their mother's old dream of owning Misty Harbor Inn.
Dreamy and impulsive Caroline, quiet and unadventurous Gracie with her grandchildren back home, and peacemaking Sam who cooks for her sisters are as different as can be, and they have not spent a great deal of time together since they were young.  Love, acceptance, and kindness battle with fear of the unknown, money worries, and common sense as these women decide whether or not to make their mother's dream their own.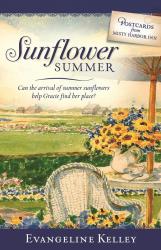 Sunflower Summer:  At first this second novel was a bit of a disappointment.  Too much of it reviewed what had happened in the first book, and there seemed to be no strong story line.  However, the characters were as endearing as ever, and slowly I was drawn into the gentle plot.  Caroline discovers she may have destroyed her best friendship, Gracie is learning that her family does not need her as much as she had thought, and Sam finds joy in the inn's kitchen.  As Misty Harbor Inn welcomes its first guests, the sisters grow by serving others.
Not only are these novels about three sisters who bought an inn, but they are also about the mystery of Hannah Montague, a young woman who disappeared from the house a century earlier.  Incomplete stories, a secret room, unpleasant suspicions, and mysterious postcards intrigue the sisters, but the resolution of the mystery will have to wait for the rest of the books in the Misty Harbor Inn series.
I love the characters and can identify with them because they, unlike most fiction heroines, are middle-aged.  There's no youthful angst or silliness, just a story about sisters embarking on an ambitious project together with some trepidation and a good deal of courage.
 Please scroll down for information about a giveaway and Facebook party.  For more reviews, check out the LitFuse page.
This is yet another book in the 2013 52 Books in 52 Weeks Challenge and is also linked to Saturday Reviews.
Disclosure: I received a free copy of these novels from Litfuse in order to give you my honest opinion.
—
Guideposts Books is celebrating the release of their new Postcards from Misty Harbor Inn series with a fun giveaway and a Facebook party on May 9th.
Enter Today – 4/18 – 5/9!

One fortunate winner will receive:
A Nook HD
Seaside Harmony and Sunflower Summer by Evangeline Kelley
Enter today by clicking one of the icons below. But hurry, the giveaway ends on May 8th. Winner will be announced at the Postcards from Misty Harbor Inn Author Chat Facebook Party on 5/9. Connect with Patti Berg, Pam Andrews, Barbara Hanson, and Camy Tang (who collaborated together under the pen name, Evangeline Kelley) for an evening of book chat, trivia, and fun! There will also be great giveaways (gift certificates, books, and more) as well as a sneak peek at the next book in the series!
So grab your copies of Seaside Harmony and Sunflower Summer and join readers just like you on the evening of May 9th for a chance to connect with the authors and make some new friends. (If you haven't read the books – don't let that stop you from coming!)
Don't miss the fun. RSVP today and tell your friends about the giveaway via FACEBOOK or TWITTER and increase your chances of winning. Hope to see you on the 9th!