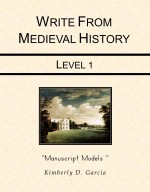 When Kimberly Garcia asked me to review her Write from History series, I hesitated.  I like to actually use the curricula I review to be able to provide a hands-on review, and I was not sure we could fit this in.
Some discussion with Miss 11 changed my mind.  She had done Presidential Penmanship, an excellent copywork/handwriting program, last year and was tired of the presidents.  She loves to read stories, however, and after we checked the table of contents for both Write From Medieval History levels, we decided to accept Kimberly's offer even though my daughter is a bit beyond the target age range.
But when the mailman brought us the two beautiful volumes, I wondered, "Why had I hesitated?"
These volumes are a treasure!  The Write from Medieval History  books have space for written narrations; they can be used as penmanship practice; they are designed for copy work; and Kimberly provides detailed instructions on how to use them as a complete writing program.  Above all, they provide a beautiful introduction to the best stories of the middle ages.  I think Charlotte Mason herself would have enjoyed them.  And, like much Charlotte Mason material, they will also delight classical homeschoolers.
I only wish my older children could have used these books!  And so I wrote this preview, just in case someone is still looking for a history/copywork/writing/penmanship program for the elementary grades.
After we have used Write from Medieval History for a few months, I will be writing a full review.  In the meantime, if you are interested in using this product with your little ones this year, you can check it out at the Write from History website.
Disclosure:  I received two volumes of Write from Medieval History from Kimberly Garcia for the purposes of an honest review.  No compensation is involved.
This post is linked to Trivium Tuesdays.