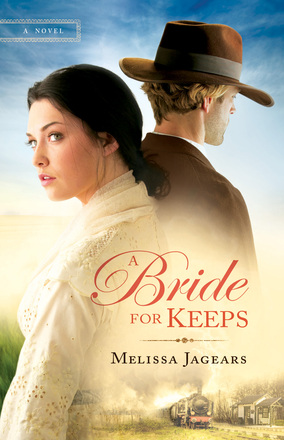 Each time a new woman steps off the train, all the Kansas town's bachelors first ask, "Are you here for Everett Cline?" After all, Everett has already had three brides brought in, although none of them ended up marrying him.  By now he has accepted the fact that he will never get married.
So when the train drops off pretty Julia Lockwood, and she tells the bachelors that yes, she is there for Everett Cline, he is stunned.  He never asked her to come!   Besides, such a beautiful and obviously wealthy woman will certainly choose someone else, just like the other mail order brides did.  She is certainly not going to be doing the hard work any farm wife would have to do.
But Julia knows better than anyone that beauty can be a curse.  Hurt in the past and dreading the future, she hopes that by working hard she can help Everett and so earn safety for herself.
How can a marriage with such a beginning succeed?
Both Everett and Julia are, individually, wonderful people.  They are each kind, caring, fun, honest, and dependable.  Therefore it's astounding how much misunderstanding and pain they cause when they let past hurts direct their actions.  It takes the counsel of friends, a terrible accident, and the gospel to bring them both to their senses.
Even though I needed to put this book down a few times, I could not stop thinking about it.   I love Julia and Everett and their friends and was completely involved in their prairie lives.  Although this is Melissa Jagears' first novel, it reads like the work of an experienced author. More than just a sweet love story, Bride for Keeps addresses some of the deepest personal issues of our society, rejection and shame, with common sense and the gospel.
Bride for Keeps is an upbuilding, heartwarming, page-turner that left me more understanding of others and more thankful for my own blessings.  Recommended.
This is yet another book in the in the 2013 52 Books in 52 Weeks Challenge, and is also linked to Saturday Reviews.
Disclosure: This book has been provided courtesy of Baker Publishing Group and Graf-Martin Communications, Inc. and is available at your favorite bookseller from Bethany House, a division of Baker Publishing Group.